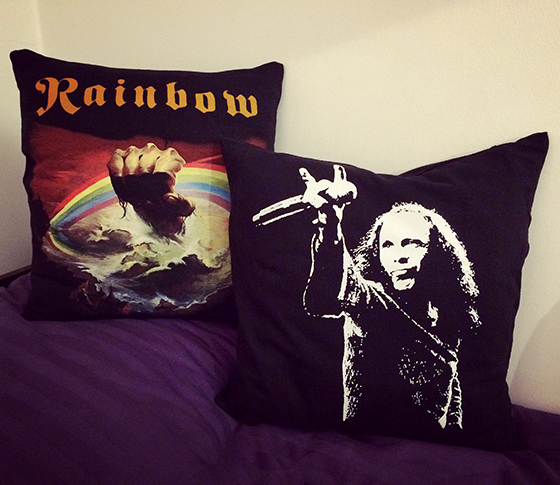 Say hello to my brand new DIY Rainbow and Ronnie James Dio cushions!
So here's something easy to do with all those band t-shirts lurking at the back of your wardrobe, the ones you never end up wearing…
When it comes to my favourite bands – most of which aren't particularly famous – I'm more than happy to do my bit to support their work by buying their CDs, special editions and merchandise. I never leave a gig without buying at least a t-shirt.
The problem is, with metal bands in particular, they don't really cater to small-sized female fans. Most have an extensive range of t-shirts, but 9 out of 10 will be men's fit, starting at a men's size small, which fit me like a fucking nightgown. On the rare occasion where they do a 'girl fit' shirt, there'll be just one design which they'll run for several years.
In the past I've resorted to buying the styles I wanted in whatever size / fit was available, and then shredding them up and re-fitting them. But that kind of limits the occasions on which I can actually wear them. Normal band t-shirts are kind of okay in my office, but I have a feeling that restyled shirts tied in shreds around your torso may be frowned upon.
So when my favourite band Kamelot released a new album tie-in t-shirt a couple of years ago that, once again, only came in sizes that would have comfortably accommodated two women of my size, I tried something new and turned it in to a cushion cover. I have zero sewing skills, but a bit of hemming tape and an iron did the trick. It came out looking pretty neat, and on a couple of occasions where I managed to capture my cat modelling it, the pictures even got reposted by the band.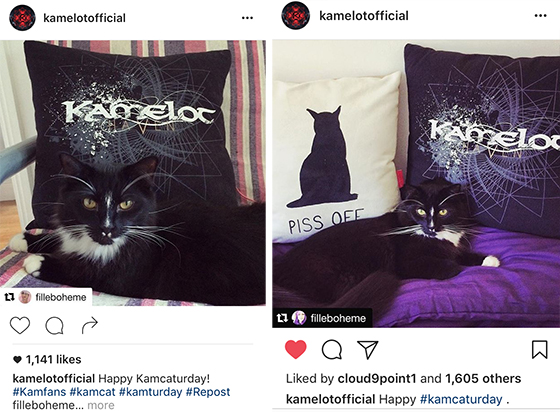 Since then I've collected a few more shirts that I really love but wouldn't wear – yeah I know I could, but I just really don't do baggy – and added to my growing set of metal cushions. That way I actually get more use out of them, it's a nice alternative to covering your walls with posters (with the added benefit of making your home more comfy), and it's a great way to personalise your cushions.