re:View – Kamelot: the album, the tour, and (especially!) the new man
I will admit that I was devastated when Kamelot's long-time singer Roy Khan dropped out. I didn't go to the gigs when they toured with various guest singers, I wasn't getting my hopes up for the new album – in my mind, my favourite metal band died with the departure of my favourite metal singer.
Then the news came that Kamelot had found a new front man, and early-day tour reports from all around the internet agreed that he was pretty good. The first single from the new album Silverthorn came out, and I figured I might as well give it a try.
Listening to Sacrimony the first time, I thought new singer Tommy Karevik tried too hard to sound like Khan. Second time, I rather liked it. After a week of listening, the ghost of Khan had vanished and I found I just really enjoyed listening to Tommy singing a very good new Kamelot song. And I was getting my hopes up for the new album.
I bought myself a ticket for their gig in London. (And then I bought one for my Dad who came over from Germany for the occasion.)
Silverthorn has been out since late October and it is perfect from the first note to the last: easily the best Kamelot album ever. It has been the only thing on my iPod for the last few weeks and has probably spun through its fiftieth round already. And not a single time did I the thought cross my mind that Khan is missing from it. The album is perfect as it is; perfect with Tommy Karevik singing it.
The gig was last week; perfection if I've ever seen it on a stage. This is the one thing I certainly didn't expect. Kamelot without its trademark voice, just out of a turbulent reshuffle – and yet in its best shape ever. Because the band lost a great singer, but gained an even better singer.

Kamelot, 2012 – in their best shape ever
Tommy's voice may not quite have the volume and deepness of Khan's voice on the lowest notes, but he hits – and holds – the higher notes so much better. All through that gig he didn't miss a single note, and on the parts where the music calms down a bit – like the new ballad Song for Jolee – his voice is 100% goose bumps down your spine.
And I suppose it also helps that he's pure eye candy. (I'm allowed a fangirl moment every now and then!)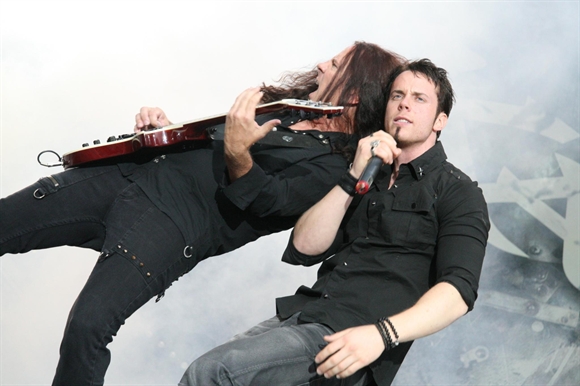 Kamelot founder/guitarist Thomas Youngblood and new man Tommy Karevik
Without meaning any disrespect to Khan, I can only say it looks like this is the best thing that could have happened to Kamelot. All the reviews I've seen for Silverthorn are of the five-star, nine/ten-out-of-ten kind, the album has been top of various European metal charts, it's certainly my favourite album of the year – and my favourite metal band tours on with my favourite new metal singer.
To that, a very happy \m/