My week of musical escapism continued on Saturday with a matinee of Top Hat, the stage version of the 1935 sing-and-dance comedy starring Fred Astaire and Ginger Roberts.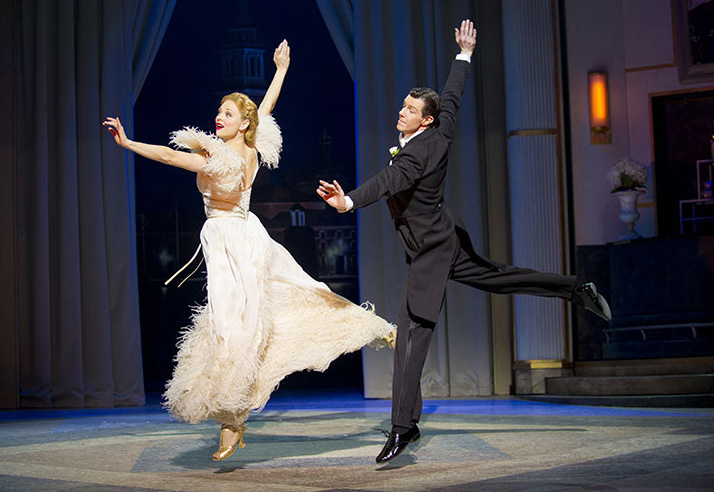 Kristen Beth Williams and Gavin Lee. Image borrowed from
here
.
"They don't make them like this anymore," sighed my companion as we left the theatre; and I thought, of course he would say that. He's in his early sixties. The good old times, and all that.
But actually, he's go ta point. Top Hat radiates with the kind of elegance that you just don't find in today's productions. Whether it's the dance numbers, the songs, the dresses and suits, the beautifully simplistic story (boy meets girl, mistaken identity causes much drama, all ends with a wedding), the dialog, or even the (endearingly obvious) jokes -everything in this show channels the spirit of a time when gentlemen were courting you properly, ladies were glamorous and admired, and everybody was wearing tap dance shoes at all times, just in case you needed to burst out into a dance routine in the middle of a conversation.
I love this old stuff. When I get down I shut myself away for a weekend and watch a bunch of ancient screwball comedies and musical films, and pretend that everything is ok in the world.
And what could be more happy-making than a musical bringing exactly this feeling to you live, today?! Especially one that is so well performed as this production of Top Hat. The cast carries the elegance and the mannerisms of the era perfectly, never once breaking the illusion that you're right in the middle of the 1930s. The singing and the solo dance numbers to Irving Berlin's songs are equally flawless.
Just one thing really bothered me: The ensemble was woefully out of sync on the tap dance numbers. This may be nit-picking, but watching a major West End musical I would have liked to see the ensemble dancing in razor-sharp perfection. But then, growing up in family of obsessive (tap) dancers has probably biased my expectations a bit.
Overall, Top Hat is delightful. The best kind of escapism you could possibly wish for. And Gavin Lee is divine.
Pens: 4 out of 5