My first Terry Pratchett book was The Wee Free Men.
[In fact, reading back through my reviews I just realised that this is a fact I've mis-remembered for years. My first Discworld book was The Truth. But somehow, even though I enjoyed it, it didn't stick; maybe I wasn't ready. When I read The Wee Free Men some time later, however, that stuck – so much so that it made me read the entire series and actually became my first Discworld book in my memory. So we'll go with the heart over logic version for the sake of this article.]
A good friend had been recommending Pratchett's young adult books for years, and when I couldn't get round to reading them she eventually just bought me two as a present. That's a very effective way to force me to read a book as I can't leave books lying around unread for long, or give them away without at least checking them out.
So I read The Wee Free Men, and then I immediately read A Hat Full of Sky. And so began the biggest reading journey of my life. Straight after those two, I read the remaining Tiffany Aching books. Then I read every Discworld book involving the witches. Then I moved on to the Death storyline. Then I went back to the beginning and read all the remaining books in chronological order.
Four years later I had made my way through 40 Discworld books and my world was changed forever.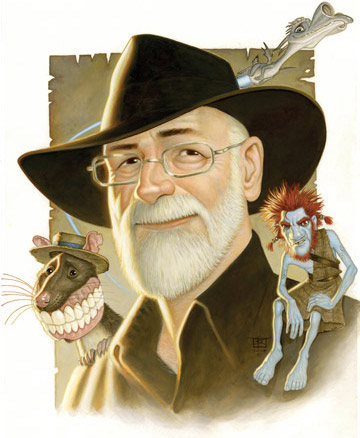 Terry Pratchett, by Paul Kidby
Terry Pratchett passed earlier this week and in his memory I wanted to make something. You know, paint a picture, build a statue – whatever. But I'm no good at drawing or sculpting or building things. I do all right with words, though. So these are my reviews of all the Discworld, and an account of most of my reading journey of the past five years, collected here as a tribute to the man who created this beautiful world and shared it with everyone willing to open their minds.