June came and went, and I managed just two books. I don't know what's wrong with me this year. Ok, I do know; I've been on a bit of a personal roller coaster ride and just haven't had the mental space to focus on a book for the past few months.
Well, the ride is over now and I've got my head screwed back on tightly, and I'm finally in a reading mood again. This month's bookshelf is starting to look pretty good already.
But first, here are the June reviews.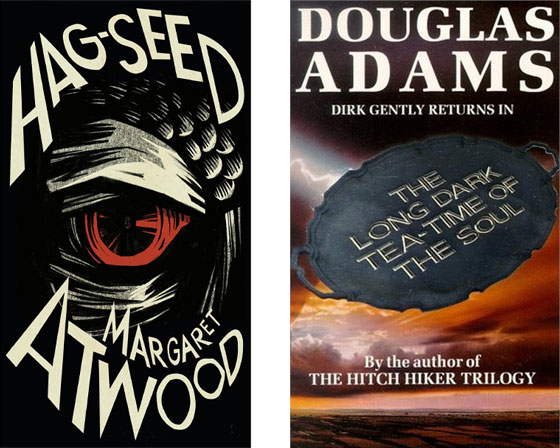 Hag-Seed by Margaret Atwood
I'm going to get flames for this, but I'll say it as it is: Margaret Atwood has lost her edge. The Heart Goes Last from a couple of years ago was already a big missed opportunity, and let's not even think about Angel Catbird. With Hag-Seed I again felt all the frustration of a potentially great book that just didn't reach its full potential.
The set-up is so promising: Celebrated theatre director Felix gets betrayed and ousted by his right-hand man, loses his family and his life, and spends 12 years as a voluntary outcast plotting his revenge. (It is a re-telling of The Tempest, after all.) Working part-time as a literature teacher in a prison and staging Shakespeare's plays with the inmates, he finally takes his stab at vengeance with a somewhat modified production of The Tempest when his former theatre enemies – who have since rise to the ranks of politicians – show up for a ministerial visit to the prison's theatre club.
It could have been a good story and it's so well written – the story of Felix's fall and his lonely life as a social outcast, with only the imaginary ghost of his dead baby daughter for company, is gorgeous and heartbreaking in the best of Atwood's signature style. But the momentum just doesn't last. Too quickly you figure out that there's a plot underway, and she bigs it up way too much, so that when the day of vengeance finally comes and goes you're lost with that "Oh, that's it?" kind of feeling. As showdowns go it's as bland as it gets, and the resolution that follows is just too predictable and cheesy as it gets. I am the biggest fan of Margaret Atwood's past work, but I barely made it to the end of this book and I couldn't find much to love about it. This is no tempest; it's barely a gentle breeze.
Pens: 3 out of 5
The Long Dark Tea-Time of the Soul by Douglas Adams
I picked this up completely at random in a gorgeous sci-fi room of a Hay bookshop, based on the title and the fact that it's by Douglas Adams. I hadn't heard of Dirk Gently but really enjoyed the Hitchhiker books. This one's written in a similar style, beautifully observant and utterly hilarious – that very elegant form of comedy that pretends to be innocently nonsensical but actually cuts right to the bone of human nature. It's the same style that made me fall in love with Terry Pratchett, and I think Douglas Adams is the only other author I've come across who's playing in that league.
So in this book, a check-in terminal at Heathrow Airport mysteriously explodes and a random music producer mysteriously ends up minus his head. Dirk Gently investigates using his trusted holistic (i.e. completely nonsensical) methods, and before he knows it he finds himself caught between the fronts in a war of gods. Literally. It's a fast-paced and funny story. The ending is a bit of a letdown, rather than the epic showdown I'd hoped for, and doesn't quite make sense, but otherwise this is a really entertaining read full of little laughs and gorgeously fine-tuned language.
Pens: 3 out of 5