re:View – The 2017 Bookshelf: January
Bookworms, I'm back. And I'm finally excited about books again! I'm catching up with the back catalogue of some of my favourite authors (James Ellroy, Margaret Atwood, Patrick Dennis) and looking forward to a whole load of books coming out soon. I mean, the first novel from George Saunders?! Sign me up for that. Also hitting us soon are Neil Gaiman's Norse Mythology, a feminist manifesto by Gillian Anderson, and the third part of V.E. Schwab's Shades of Magic.
But enough about books of the future. Here are the books I've read in the past month.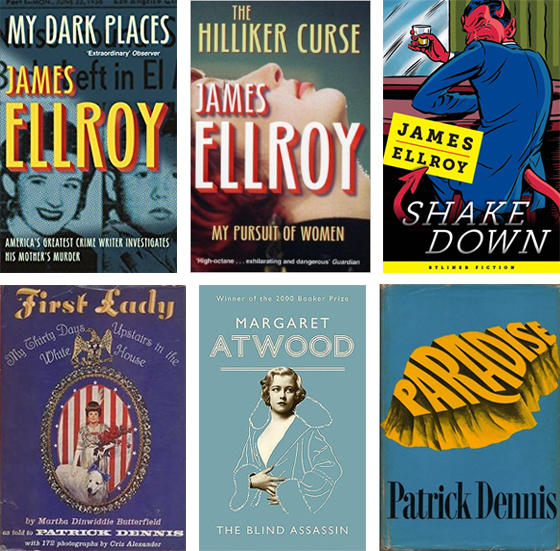 My Dark Places by James Ellroy
I think it's fair to say that James Ellroy's life and literary career was shaped by the unsolved murder of his mother in 1958, when he was just ten years old. This book, part investigative journalism, part memoir, is the result of his attempt in the mid-1990s to solve the case on his own. It's structured brilliantly, starting with a purely factual report of the original investigation, followed by a brutally honest autobiographical section detailing the author's early life of neglect, addiction and homelessness. It then jumps to Ellory's own attempt to solve the murder with the help of a retired LA police officer, which not only chapter that got to me in particular, which is on the surface a summary of the retired police officer's biggest cases, but gradually turns out to be a very sophisticated – and utterly chilling – analysis of the many reasons why men kill women. This book is brilliantly written and showcases Ellroy's skills across a number of styles, from the investigation report to the journalistic feature and the deeply reflective memoir. Surely a must for anyone interested in non-fiction crime.
Pens: 5 out of 5
The Hilliker Curse: My Pursuit of Women by James Ellroy
This is a very strange book, sitting somewhere between a sequel and a companion piece to My Dark Places. While Ellroy's first autobiographical book was three parts murder investigation report and one part life story, The Hilliker Curse revisits the topic from a very different angle. In both books, Ellroy gives a very honest and graphic account of his early life, his drug addiction, criminal activities and homelessness, but the second time round this story serves mainly as a backdrop to the main topic: his troubled, tortured and complicated relationships with women over the course of his lifetime. What I didn't expect from the title, or from his previous books or indeed his public persona, was the degree of dependence and devotion he admits having for each one of them – often to the point of creepy obsession, but always rooted in a deep and convincing love. It took me a while to warm to the style; the first half of the book felt a lot like a James Ellroy writing class – lots of the usual jargon, hyper-stylised and elliptical to the point of being nonsensical, and just a little bit too self-celebratory. But it's almost as if he opens up his true self more as he gets deeper into writing the book, and the initial posturing of his public persona takes a back seat as he analyses, with a very touching gentleness and vulnerability, the relationships that have shaped his life – always guided, driven or destroyed by the memory of his lost mother.
Pens: 3 out of 5
Shakedown by James Ellroy
This short novella from the master of contemporary noir visits the legendary Hollywood PI and scandal rag writer Fred Otash in purgatory as he confesses to a lifetime of shakedowns, shady schemes and other dodgy dealings. As a standalone it is just that, a short fictionalised mini-bio of the real Fred Otash, but for readers of Ellroy's Underworld USA trilogy it adds a nice bit of extra dimension to this recurring character. More one for Ellroy fans than the general reading public I think, but nevertheless an enjoyable piece of short fiction.
Pens: 3 out of 5
First Lady: My Thirty Days Upstairs in the White House by Patrick Dennis
As well as writing hilariously on-point comedies about the better social classes, Patrick Dennis made a name for himself in the genre of mock autobiographies. Perhaps his most famous is Little Me: The Intimate Memoirs of that Great Star of Stage, Screen and Television, Belle Poitrine, as told to Patrick Dennis, but I thought First Lady was far better. It chronicles ("in her own words"), the life of Martha Dinwiddie Butterfield, her ascension from deep South small-town girl to "patent medicine" heiress (by way of her father's booming bootleg moonshine business) and, eventually, to the first lady of the nation for the full 30 days of her husband's disastrous time in office. Now residing in a home for the elderly and demented, she remembers, with an absolutely delightful degree of delusion, her father's business empire, her husband's questionable victory in the presidential election of 1909, and their short reign of the White House that all but sparked an international diplomatic crisis. At times over the top to the point of being almost annoying, this absurd and utterly made-up biography is hysterically funny, and at times disturbingly prescient of the arrival of the current occupants of the White House…
Pens: 3 out of 5
Paradise by Patrick Dennis
Another typical Patrick Dennis comedy and certainly one of his best books. As usual he takes a mercilessly cynical look behind the facade of the better classes (or those who fancy themselves as such), from society leaders to social climbers and from upper-class crooks to showbiz crazies. This time the story that serves as a vehicle for his observations is particularly entertaining: a colourful group of holidaymakers gets stranded in a new Acapulco peninsula resort that is transformed into an island by a massive earthquake. Cut off from the mainland without water and electricity, champagne resources rapidly dwindling, they soon become the focus of a TV docu-drama broadcast across the US network – with all sorts of hilariously disastrous consequences. The overall story is big and bold and ridiculous in Patrick Dennis' trademark style and the characters that populate it are some of his most well-crafted, in all their absurdness and eccentricity – certainly on a level with his unforgettable Auntie Mame. A quick, funny and surprisingly moving book that gives us a version of Big Brother on Holiday decades before the concept even made its way to our TV screens.
Pens: 4 out of 5
The Blind Assassin by Margaret Atwood
Based on my reading experience so far, Margaret Atwood writes tow kinds of novels: those about dystopia, and those about human flaws. This one falls in to the second category. It's a story of two sisters and their lives, roughly framed by the two world wars. One, we learn, on the first page, killed herself young. As you may have guessed, we spend the rest of the 600+ pages waiting to learn why. I can't tell you much of the story without giving away the narrative technique, which is really what makes this book. Let's just say there are a lot of different levels, and it's slow-going; the sisters' live story is mostly bleak and boring and really tested my patience. The reward comes too late and I didn't feel it was strong enough to make it worthwhile. This book also made me realise that I'm not very fond of Atwood's tales of flawed humanity. Every character is so bloody flawed, and so beaten down by their fate. Her female characters especially are infuriatingly passive, wallowing in their victimhood. I can't like them; I can just about muster a minimum measure of pity for them. I'm not good with pitiable, pathetic characters. I want people to stand up and fight for themselves. Fat chance of that happening in this particular book. So, while I enjoyed parts of it and shed a few tears at the end, this isn't exactly one of my favourites from the author. However, aside from the somewhat bland story, the writing is absolutely fantastic, as is the use of narrative technique – but then you'd expect nothing less from Margaret Atwood.
Pens: 3 out of 5