re:View – The 2016 Bookshelf: November / December
Sooo 2016 has been a pretty bad year for reading. I'm not even sure what it was, but I somehow had to drag myself through book after book (with few exceptions) and almost lost the love for it. Partly, it's because I went through a massive life change in early summer, breaking off a six-year relationship and having to move house and build up a whole new life. Then I really enjoyed this new single life and ended up spending a lot more time out and about, training and meeting friends, so there just wasn't much time for books. I also hit a string of uninspiring books around the middle of the year which didn't exactly drive me back to the bookshelf looking for more.
On the plus side, I started a few books in December that have been absolutely brilliant and re-ignited my book lust. More about those at the end of January, but for now here are the pathetically slim contents of the November and December bookshelf.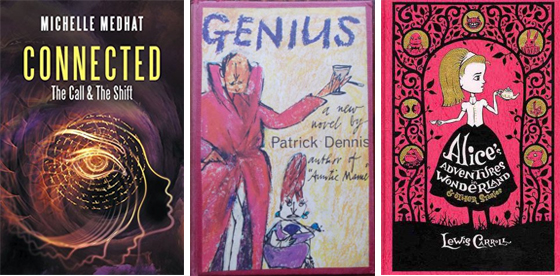 Connected: The Call & The Shift (Author's Cut) by Michelle Medhat
Connected is a two-part sci-fi thriller that plays out on three levels: on the stage of world politics, where the emergence of a globally connected terrorist organisation threatens all life on earth; on a personal level, where we follow MI6 agent Sam and his wife Ellie as they risk everything in a dangerous plot to save the world; and on a much higher playing field, where a secret overseeing force wages a timeless battle between good and evil with the very existence of Earth at stake. As the story unfolds, every player has to take their side. But with an entirely new brand of terrorism shaking the most powerful nations to their core and unseen forces manipulating events to pursue their own sinister agendas, can Sam and Ellie really pull off the impossible and shift the world off its course of destruction? This book weaves together an interesting mix of genres. It's a secret agent thriller at heart (think Jason Bourne backed up by James Bond's tech lab), but the futuristic technologies imagined by the author also firmly places it in the sci-fi arena – and there's a supernatural element to it as well, plus a good dose of steamy romance. It's probably not a book I would have picked up, but was too intrigued to resist after meeting the author. A fast-paced read with a visual style and lots of action, Connected comes along like a big-ticket Hollywood blockbuster.
Pens: 3 out of 5
Genius by Patrick Dennis
Patrick Dennis, master of the hyperbolic character study, takes us on a hysterically funny ride through Mexico City's American society, where director Leander Starr – Hollywood wonder child of yesteryear and now on the run from Uncle Sam's tax department, various ex wives and assorted other parties he owes money to – stirs up everybody's quiet summer retreat with his mission to produce a budget movie that will redeem him with the big studio bosses and his creditors alike. Of course Starr, in the best tradition of Patrick Dennis characters, is a scoundrel and a dreamer, and of course his attempts to string together a masterpiece starring burned-out film industry veterans and produced by the shadier elements of the Mexican business world unleashes chaos on the lives of everyone involved. Brilliantly observed by Dennis himself as an author-turned-character (turned accessory to mischief), this book is both a beautifully rowdy old-school comedy and a merciless look behind the facade of the elite of its era.
Pens: 4 out of 5
Alice in Wonderland by Lewis Carroll
I haven't read Alice since I was around six. My mum used to read it to me a lot before I could read. I didn't actively dislike it at the time, and it didn't exactly scare me, but I always felt vaguely uneasy about this story. Thinking back now, I realise it gave me a feeling that's very similar to the way chaos and nonsense make me feel now. So I probably shouldn't be surprised that I didn't massively enjoy reading it as an adult, either. I just don't enjoy logic, so the endless discourse between the various characters annoyed the hell out of me. And I dread chaos. Nonsense is basically chaos, and deliberately nonsensical plots are kind of the worst thing you can do to me with a story. It makes my brain bleed. I love a lot of the elements of Alice that have been adopted into pop culture, but I'll never be able to enjoy the book.
Pens: 2 out of 5