re:View – Rock 'n Roll! Rock of Ages! Rocks my underpants!
Before we go anywhere with this: I LOVE classic rock. Say what you want. Look at me weird. It's cool. Because my dad was a drummer in a hair/hard rock band in the 80s, and I started being born at one of his gigs. Which means I have a lifelong immunity against your rolling eyes and your tut-tuts and your Katy Perrys.
So, I have finally been to see Rock of Ages. And, a bit to my own surprise, I had the best fun ever. Well, at least the best fun ever in a theatre.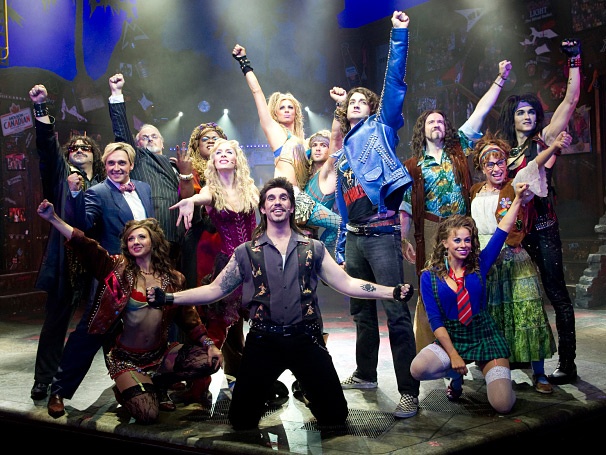 I expected it to be cheesy, maybe a bit cringe-y, and – having seen the movie – a bit on the lame side. Instead, what I saw was a show so filled with good music, great voices, delicious dancing and great acting, it made me want to jump up, hug people and dance rock 'n roll moves in my underpants. In short: Incredibly happy.
By the way, when I say great voices, what I actually mean is "jump out of your seat and clasp your hands over you mouth as you breathe OHMYGOD" voices. These guys are amazing.
Built around classic rock hits from the 1980s, Rock of Ages (which hit the London West End in 2011 after being first produced in LA in 2006) probably isn't the finest piece of theatre you'll ever see, but I dare to say it's the most fun you'll ever have with a musical. It doesn't bother much with the story – which is a good thing. Let's face it, we're all just here for the music and the good time, so don't make things overly complicated. What this show does is simple and strong: It captures the essence of an era, and catapults you right back into a time when music was honest, rock stars were cool, dreams were wild and chicks didn't worry whether showing your knickers under your tiny skirt and fainting over guys in studded leather pants was cool with your feminist agenda. (Ignore the fact that I'm too young to even have (consciously) experienced much of the 80s. I have a very clear mental image of the kind of rock chick I would have been, had I been born 20 years earlier.)
Go time travelling. Get on board this rock 'n roll party ship filled with timeless rock classics, straight-from-the-soul singing, perfectly timed comedy and beautifully detailed production design and styling. Sing your heart out. Laugh until you scream. Have the best time ever in a theatre.
Pens: One million, out of five. Plus air guitars and gold stars. And my bra thrown at it.
******
PS: Whatever you do, DO NOT WATCH THE MOVIE. I know a DVD is cheaper than a night in the West End. But you don't want to see a watered down, vanilla version of the show that has been dragged through the Hollywood mincer, been drained of all singing talent and style, and stars Tom Fucking Cruise trying to be a rock legend.