re:View – Station Eleven, the first must-read book of the year
I usually do my reviews in batches, but here's a book that deserves its very own post. I read it purely because it was Waterstones' book of the month for January and by the time I had read the free first chapter on their website I was drawn in enough to order the book straight away. That says a lot for the first chapter; usually I stay well clear of the latest books being hyped by the booksellers.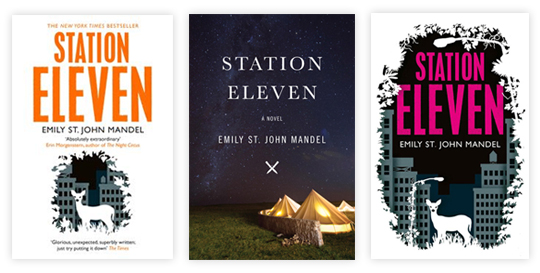 Couldn't pick my favourite cover so you get them all…
Station Eleven by Emily St. John Mandel is the story of a theatre company travelling across a post-apocalyptic North America performing Shakespeare's plays for communities of survivors, interwoven with an account of a pandemic that wiped out civilisation and the first twenty years of the surviving one percent of humanity dealing with the aftermath. What starts out as a collection of seemingly unconnected subplots following different characters' lives, spanning the continent and some forty years in time, eventually comes together as a powerful narrative of surviving the end of the world and being catapulted into a new reality where all the rules have changed.
Mandel's writing is poignant and perfectly timed, creating a page-turner that moves deeply without being sentimental. She imagines a post-apocalyptic wasteland that is filled with dangers but strangely inviting, and populated with characters and relationships that are fragile, flawed and utterly human. What I loved most about this book is how it explores the practical day-to-day realities of surviving in a worldwide ground zero, where resources are as sparse as law and order, where despair breeds fanaticism and where a moment of mercy could cost your life.
It makes you stop and think about just how fragile our civilisation really is; it makes you wonder whether you've got what it takes to survive, all the while also reminding us just how difficult it would be to re-build a world that's even remotely as safe and comfortable as the one we're used to.
Devastating and yet beautifully optimistic, and filled with literary beauty, this is without a doubt my favourite book of the year – and I'm confident enough to say that already in January.
Pens: 5 out of 5