How to take all the pleasure out of reading in just 90 minutes
The reading game is set to change forever, ladies and gentlemen. Well, at least according to this dude here who (along with the rest of the media this week) is getting all over-excited about an 'insane' app that supposedly lets you read a novel in 90 minutes.
Spritz it's called, and it is out to ruin your reading pleasure forever.
Well. The speed reading thing may have its uses if you're reading for work or for study. (I was certainly wishing I had this skill back when I was going through a combined British and American history and literature degree!) But when reading for pleasure – arguably the main reason behind most everyday novel-reading – why on earth would you want to take all the enjoyment out of the experience just for the sake of being able to boast that you read, like, four books in an afternoon?
I don't speed read, but a lifelong obsession with books has turned me into a fast reader. Often too fast for my own good. Yes, maybe I get through more books in a year than the average reader, but the downside is I don't always take them in as much as I would like. So I allow myself to speed through a book if it's a bit rubbish, but I force myself to slow down on the books I enjoy, often going back a page or even a chapter to read it again, more slowly, and pay attention to the details.
Because really, all the pleasure of a novel lies in the detail and in the language – each sentence carefully crafted by the author, who generally takes a hell of a lot of time to create it all. (So take the time to bloody appreciate it.) If you're speeding through, you just won't take these things in. You probably won't even notice what a beautiful thing language can be, or feel the joy of discovering a particular author's unique way with words. All that will stay with you is essentially a plot summary; and you can get that in less time from Goodreads or Wikipedia.
Besides, it's just incredibly sad to think that our attention span has shrunk so much that we now need an app to convert a novel into a bite-sized portion of entertainment that our overloaded brains can handle in between playing Candy Crush Saga and watching X Factor.
No. I refuse to believe that this is true. We don't need a speed reading app for novels. What we need is to sit down and take a breath, set aside some time and throw ourselves into a book with all our brains and all our hearts. Because that's the only way to really experience the magic of getting completely lost in a good novel for hours at a time. If it takes a week, let it take a week. If it takes a month, whatever! It will be worth it.
Let's not allow today's obsession with technology to ruin this ancient, timeless and absolutely essential pleasure for us.
In a nutshell, as the brilliant Emma Donoghue said on Twitter this week:
No, what's 'insane' is thinking you'll enjoy books more by giving them less of your brain and time!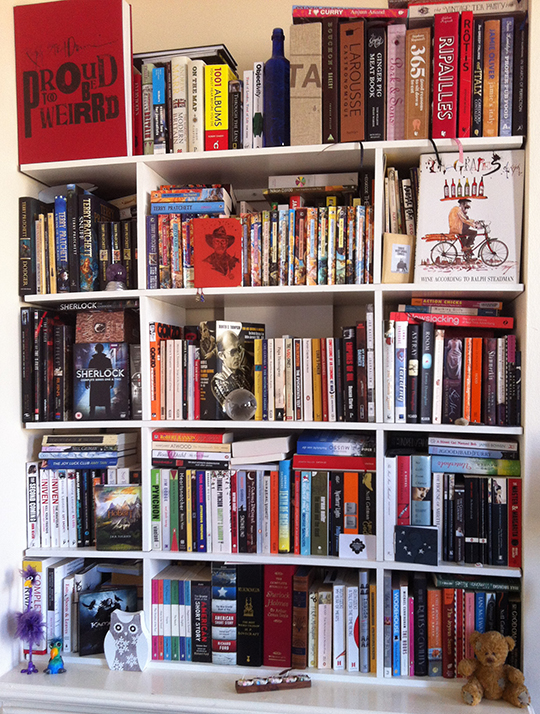 My bookshelf – well, part of it anyway. The result of years of reading, not minutes.