Perfect places: Alghero, Sardinia
Alghero in northwestern Sardinia is one of my very favourite places on Earth. The city, the sea, the countryside all around – it's simply got everything going for it. The food. The people. The quiet and calm before and after the tourist season. It's the kind of place where you always imagine you would lead the perfect life.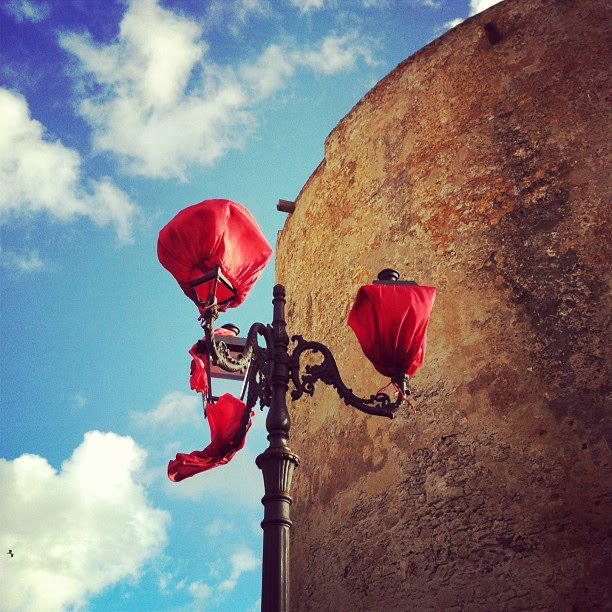 Old tower on the city wall with streetlights hooded in red for the Easter processions.
This lovely little town has a gorgeous historical city centre, a maze of tiny cobbled streets that I could get lost in forever – except you never get lost for very long as sooner or later you'll always end up back on the old city wall, with a stunning view of the sea. Standing up there by the ancient defence towers and the wooden catapults, looking down at the sea smashing against the rocks or across the bay to the mountains cast in shadows by dramatic clouds, you pretty much expect the bandits and the pirates to show up on the horizon any minute.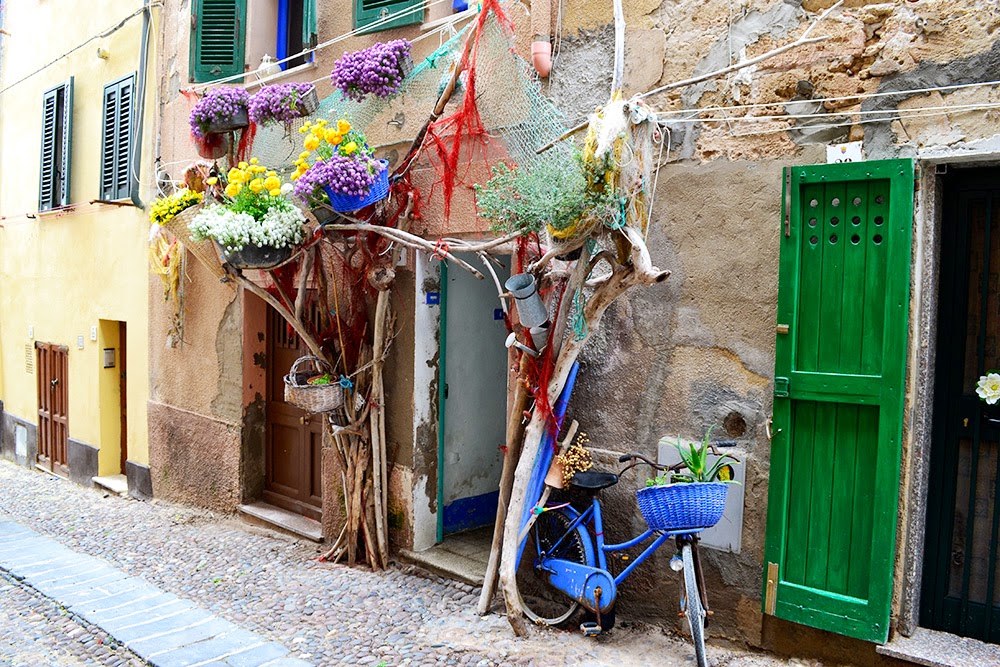 Vertical garden / garage / appliance storage?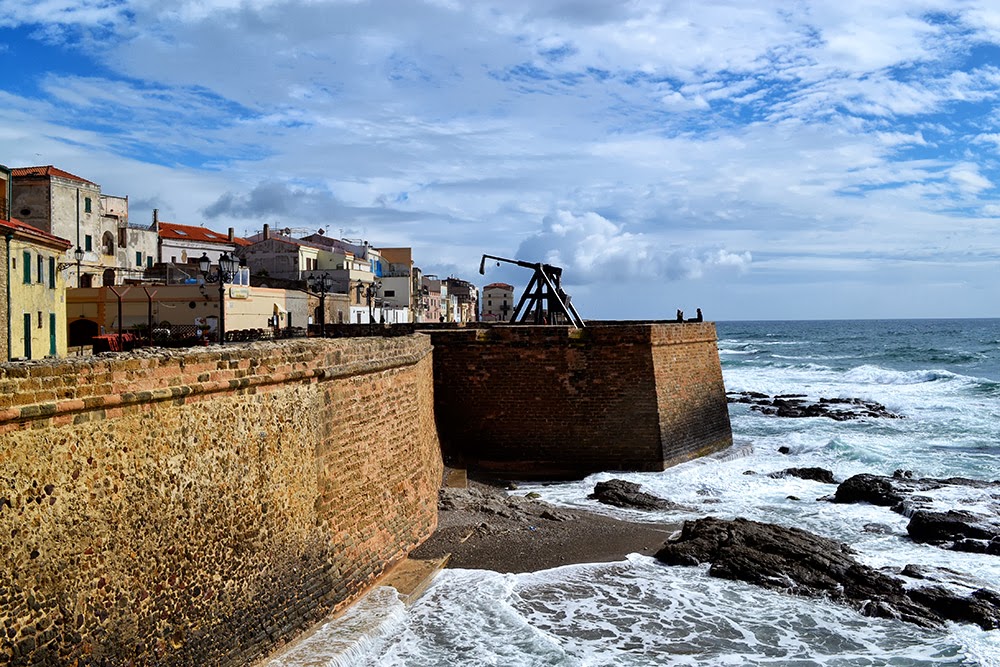 Just in case you didn't spot that "no boat parking" sign…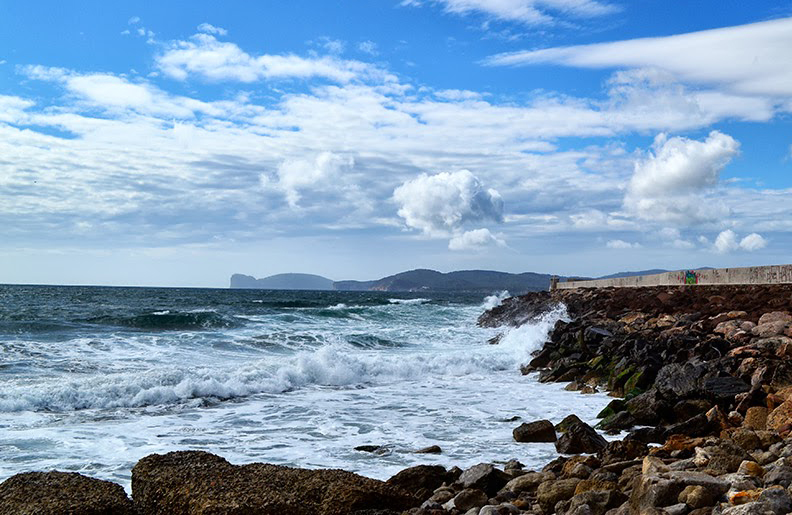 I bet the pirates are hiding over there!
Dotted around the tiny streets, sometimes hiding away in cellars and courtyards, you'll find an astonishing variety restaurants – ranging from a small cramped room serving traditional pizzas to some rather fine dining indeed. My favourite are the small, family run restaurants serving no-nonsense, authentic Sardinian food – big bowls of sausage pasta, followed by a steak that's so gorgeous it can just sit plain on its plate without even needing any garnish. Oh, the deliciousness! I honestly don't think I've ever eaten such good quality produce in my entire life, not even from the local farms in my native Bavaria or in the top restaurants in London. Sardinia doesn't mass-produce food; everything is fresh, seasonal, local – and while eating you just feel how good this food is for you. I could go on about this forever, but trust me: You have to go there and try the food for yourself. You'll never want to go back home and to the supermarket ever again.
Walking north out of Alghero, along the coastal road, the most beautiful seaside awaits: Maria Pia, where forested sand dunes gradually give way to a perfect white beach, offering lots of little, private nooks shaded by trees – the perfect place to sit, undisturbed, and just enjoy the view of the sea and the mountainous coast. If you've got wheels (a bike will do), you can also go further up the coast, through pine forests and past olive groves and vineyards, to visit some of the small, hidden beaches that are dotted along the coast. And if you're out of season and a bit lucky, you'll have an entire beach to yourself.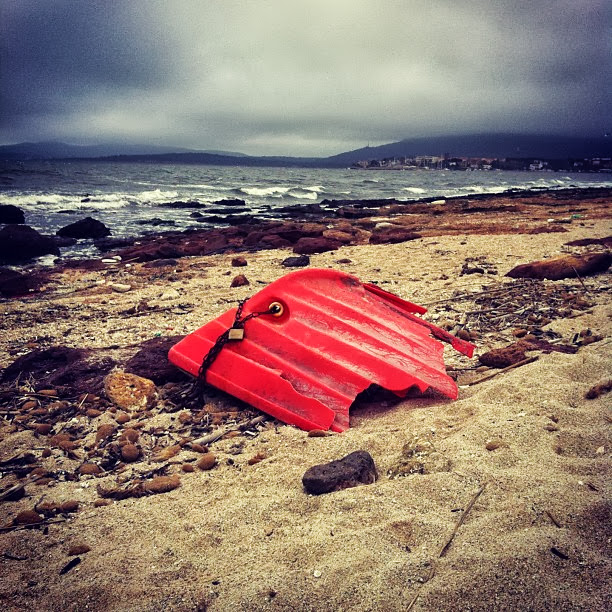 In spring you can see Maria Pia in all its rough beauty, before they clean up the beach, while the April storms roll over the mountains.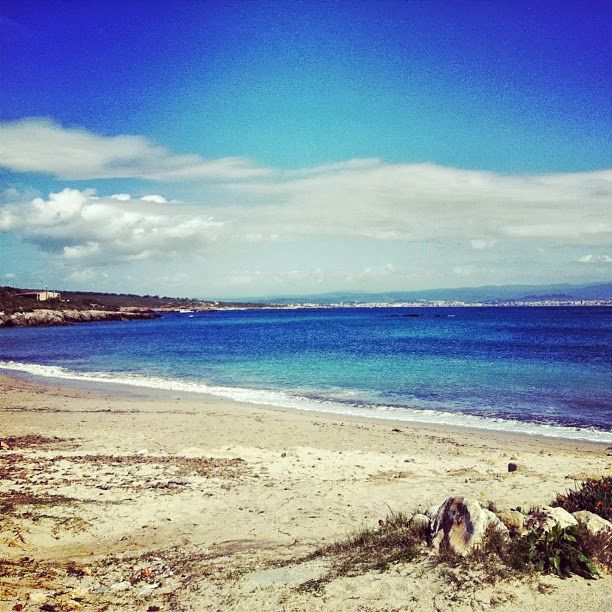 And after you've braved the hilly coastal road, you can always snooze on the beach.
There's loads more to see around Alghero, for example Neptune's Grotto, a huge marine cave full of extremely fancy stalagmites and stalactites carved quite spectacularly into the cliffs. Going there by boat you'll actually land inside the cave in a perfectly turquoise pool – a process that can quickly turn into quite an adventure when the waves get a bit choppy. On my next visit, I'm going to venture a bit further out of town to go to Asinara, a national park island which gets its name from its population of wild Albino donkeys.
And then I'll just keep exploring the island until I'm old (and rich) enough to buy an olive grove with a little cottage outside Alghero, and retire there. And I shall live happily ever after. Eating Pecorino.