One million reasons to not watch The X Factor vs. the one reason to watch it this year
Under normal circumstances, you wouldn't find me within a mile of a TV set showing The X Factor or one of its similarly idiotic clones.
I say "under normal circumstances" because, although I passionately despise mass-produced pop music and the artificially made pop stars that generally serve as a vehicle to its producers, with the start of this year's X Factor series, special circumstances seem to have arisen:
Janet Devlin.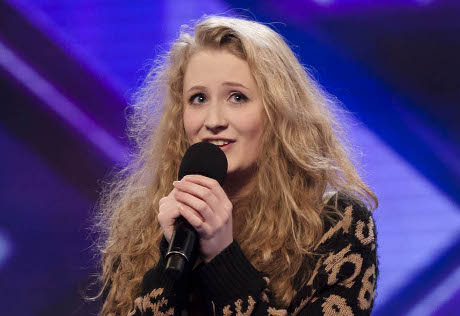 Janet Devlin at her X Factor audition (before that awful makeover where some idiot stylist smoothed out her beautiful hair)
It's a shame, really, that she's having to try to get signed via the Simon Cowell machinery which – should she win – will probably land her captivating voice on an album full of soul-less production-line pop songs that will be heard and forgotten as soon as the Christmas sale is over. Because this incredibly talented, elf-like and utterly likeable young woman deserves a career of making her own music and being her own, beautiful self.
I sincerely hope that, no matter what the Cowell Commercialisation Cult churns out this time, Janet will be able to "get there" and be a successful artist on her own terms.
Check out the audition video and you'll see what I mean.
And due to these special circumstances, I'm now spending my Saturday evenings watching a programme I'd vowed I would never support, and spending 35p a week on text vote.
Well. I'm a sucker for a good voice.