Picture of the Week: Steve Bloom's wildlife photography
Here we go with Picture of the Week #3, and once again it wasn't really possible to actually keep it down to one picture.
Steve Bloom is another of those People I Shoulda Known About (but didn't until I had to look them up for work). He currently has a new book coming out, titled Trading Places – The Merchants of Nairobi and has also got a massive portfolio of absolutely stunning wildlife photographs. If you have a look at his 'Animals' galleries, don't miss 'Water' and 'Elephants'!
I love animals (as you've probably guessed from my rants about live duck bags and squirrel kebabs), so of course I instantly had a whole list of favourites when I looked at Blooms' project galleries. Here are my top three: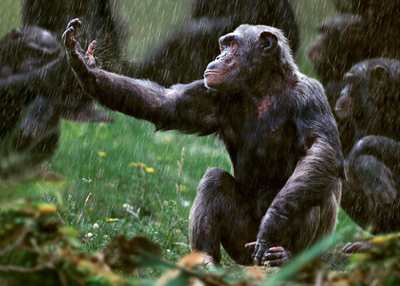 A chimpanzee photographed at Monkey World ape rescue centre in the UK, from the Water collection. I love how he seems to be catching raindrops in his hand in this thoughtful pose while all the others are huddled together to shelter from the rain.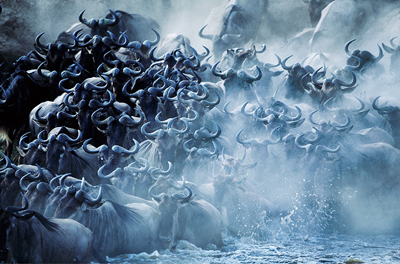 Stampeding wildebeest crossing the Mara River in Kenya, also from the Water collection. This photo looks like an elaborate painting to me. The powerful movement of the herd seems to be frozen onto a canvas, with the dozens of horns rising out of the mist creating a pattern that's at once beautiful and unsettling. Makes the animals look like the spirits of all the wildebeest that have migrated there over time rather than one actual herd. (Or maybe that's just me seeing ghosts everywhere again.)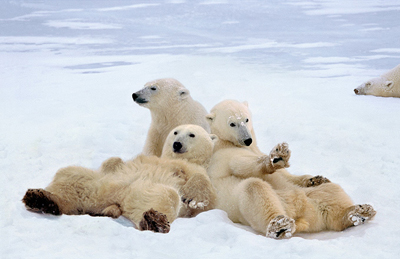 And, of course, this selection wouldn't be complete without a bit of 'Awww, fluffy!' These three Polar bears, photographed in Manitoba, Canada, are just too cute. The one that's looking at its hand makes me squee every time I look at the picture. Also makes me wanna paint its nails! The one lounging around next to it looks like it just needs a remote control and a can of coke. And the third is just kind of, 'Meh, this sucks. Can we do something fun?'
I've always loved photos that bring out animals' personalities – and Steve Bloom is clearly a master at it. I only wish we could all spend more time studying animals and less time driving them to extinction.