re:View – The 2014 Bookshelf VI
Just to tie up the loose ends, here's the last of the 2014 Bookshelf – books new and old by some of my favourite authors. While some of these guys never fail to impress (Ellroy, Pratchett, I'm looking at you!) others didn't exactly blow me away this year.
I'm currently reading Ruth Ozeki's All Over Creation but this will be one for next year's shelf. Which means my Goodreads challenge closes at 106% or 55 of 52 books.

Clandestine by James Ellroy
In his second novel, Ellroy fictionalises the murder of his mother. Fred Underhill, young LAPD hotshot and a bit too successful for his own good, gets too reckless in his attempts to solve a string of seemingly unconnected murders, ruining his career and pissing off the wrong people. (Meet Dudley Smith, who will go on to become Ellroy's most infamous and irresistible character.) After years of chipping away at the surface of the case, a fallen cop whose ambition has turned into obsession, he cracks open a network of crime and corruption that goes beyond his wildest theories. And he finds himself facing the question: Is solving one woman's murder worth his own life? This is very early Ellroy, and – as a massive Ellroy fan – I found it fascinating to see that everything's already there: the complete lack of faith in human nature, the compelling obsession that drives his characters (and presumably the author), the particular shade of noir Ellroy has carved out for himself and the epic scope of his imagination. Reading his early work feels like glimpsing the seeds that will eventually grow into the epic empire of his mind over the more than two decades he spent fine-tuning his craft in the genre.
Pens: 3 out of 5 (but only in perspective of all his later works being rated 4 or 5 pens.)
Foxglove Summer by Ben Aaronovitch
Part five of the UK's most-hyped fantasy series since Harry Potter follows Met police officer and apprentice wizard Peter Grant to the country to investigate missing children and elvish mischief. I was really, really excited for this book, especially after the bomb of a cliffhanger Aaronovitch dropped on us at the end of book four. But this one wasn't really much of anything. The case barely simmers along as we watch Peter stumbling around the countryside, while the actual bigger story – as in the one the author has spent the last four books building up, as in the one we all bloody want to get on with – is stalled completely. He drops in a few potential new avenues that could be interesting here (a dubious old wizard, a mysterious new species) but they are abandoned just as quickly. In short, this book isn't going anywhere, loose ends abound; what's the actual point. Maybe all this is a sign that Aaronovitch hasn't decided where he wants to take Peter Grant next – but I hope he makes up his mind before this new fantasy shooting star comes crashing down.
Pens: 2 out of 5
The Sleeper and the Spindle by Neil Gaiman, illustrated by Chris Riddell
As soon as I heard this was out I ran to Waterstones and raided the children's section for its last copy. As a lifelong fan of re-told and re-imagined fairy tales, I thought I would surely find my holy grail in Gaiman's take on the genre. This is Snow White setting out to save Sleeping Beauty, after all. I imagined gender-bending, queer-a-licious awesomeness that would help to gently expand young readers' horizons – No, it doesn't have to be the bloody prince who saves the day, and of course the queen can don a pair of trousers and go off across the mountains, on her wedding day, to smooch a princess if she wants to. Ah, and yet it doesn't quite work. First off, it's a definite five pens, with extra gold stars, for Chris Riddell's gorgeous illustrations and the overall design of the UK hardback edition. It's easily the prettiest book I have seen published this year (ok, maybe sharing the top spot with this edition of Ellroy's Perfidia). But the story just doesn't take off. Where's the Gaiman magic, that thing he does with all of his books, that takes you to another world and keeps a little part of you there forever? Where's the wit? Where's the kick-ass female? There's just nothing here that engaged me. I'm not ashamed to say I've cried like a little girl about every one of his children's books I've read so far, but The Sleeper and the Spindle has left me feeling a bit meh, at best.
Pens: 2 out of 5 for the story, 20 out of 5 for illustration and design
JUST LOOK HOW PRETTY IT IS!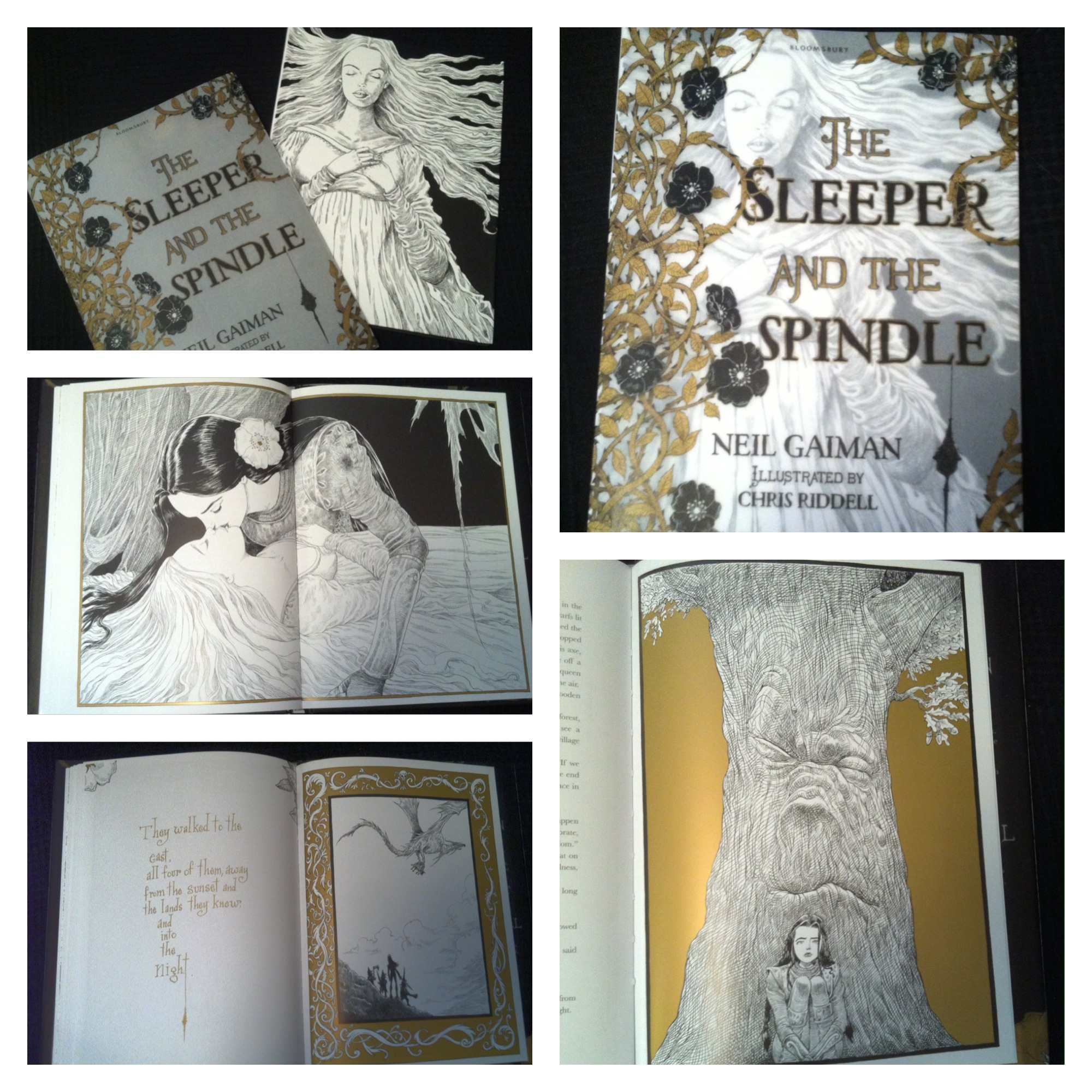 Nation by Terry Pratchett
After finishing Discworld (YES. ALL FORTY BOOKS.) I went straight into the book that Pratchett considers his masterpiece. And I think he's right. You'll rarely find a children's book filled with so much wisdom, wit and humanity. This is a book about what happens when your whole world just goes and ends one day. It's a book about growing up, thinking for yourself and finding your place in the world. Which can be a bit of a challenge if it involves being the only survivor of a tsunami that has wiped out your civilisation, or having to milk a raging mad pig, or being shipwrecked on the other end of the world and having to deliver a baby before you even know how babies are made. I guess the point Pratchett makes here is that we have a lot more in us than we may think. And, this being Pratchett, the whole exciting adventure takes place on a lush tropical island alive with wonders and dangers, filled with remarkably human characters. Seriously, in Pratchett even the birds are more human than the human characters written by some other authors. Pratchett writing for children really is Pratchett at his best.
Pens: 5 out of 5