re:View – The 2014 Bookshelf III
My dear bookworms, I just realised what an absolute ton of books I still need to review from this year – and there's not that much year left.
This shelf brings you tattoos, a bit of terror and a whole lot of urban and other fantasy. Yes, I have finally gotten into the urban fantasy thing, courtesy of Ben Aaronovitch's brilliant London-based wizard detective series. (Move aside, Harry Dresden – these guys have the accent.)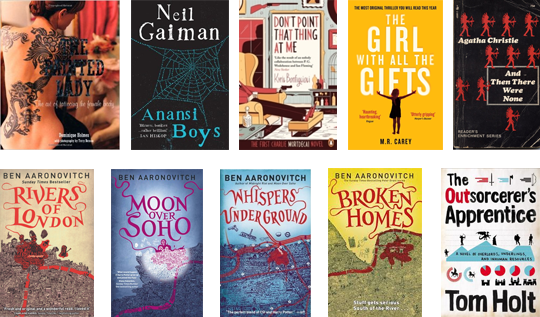 As before, I'm ditching the Amazon links. Explore your local bookshop.
PS: I need more Goodreads friends. Hint, hint.
The Painted Lady by Dominique Holmes
This is a great read for anyone interested in the story behind different styles of tattooing, with a particular focus on the evolution of the tattoo as an art form chosen by women to decorate and express themselves. It offers a brief history of the major branches of tattoo art, as well as the meaning behind much of the well-known (and some the less common) imagery often used in tattooing, from vintage and nautical to flowers, traditional Japanese, Mehndi and fusion styles. The book is laid out and designed beautifully, featuring lots of the artist's tattoos, drawings and paintings. I especially loved the sections where Dominique's clients tell the stories behind their tattoos and what inspired them. If you're looking for inspiration for your next tattoo, want to learn some interesting facts about ones you already have or just love tattoo art in general, this books is for you.
Pens: 5 out of 5
PS: I proudly wear a tattoo by this amazing artist. Here's more about that.
Anansi Boys by Neil Gaiman
This sequel (of a kind) to American Gods is similar in substance but very different in style. When Anansi the spider god dies his not at all god-like son Charlie finds out he has a long-lost brother who, rather annoyingly, not only got all the god genes but also makes himself a little too at home in Charlie's life. Brotherly bickering is one thing, but how do you get rid of a supernaturally endowed brother bent on ruining your career and stealing your fiancée? Charlie calls on the gods for help and very quickly finds himself meddling with forces that come from a long way beyond our mortal world. Gaiman lightens up the mood a few notches here compared to American Gods but keeps the mysticism, creating a hilariously entertaining tale of walking with the gods.
Pens: 4 out of 5
Don't Point That Thing at Me by Kyril Bonfiglioli
I bought this book because Stephen Fry said it was like James Bond meets Jeeves, so I expected something amazing. Sadly, this half-baked story of a rogue art dealer stumbling drunkenly around London in some sad excuse of an art theft whodunnit is incoherent to the point of non-existence, while the language is so bloated with pomp and pretentiousness it makes you want to vomit on the pages at regular intervals. I didn't laugh once; I wasn't moved once. What I was – indeed what I still am months after putting myself through this book – is angry: angry that an author who can't even be bothered to think up a proper storyline and commits this kind of repeat offence against language somehow gets sold as the next P. G. Wodehouse. I honestly have no idea what Fry was thinking when he wrote his endorsement.
Pens: 1 out of 5
The Girl With All the Gifts by M.R. Carey
This was being pushed by all the booksellers in summer so I picked it as a light holiday read. It starts off as your pretty average 'zombie apocalypse for teens' kind of novel, but rises from the pits of this over-saturated genre by virtue of its perspective. Told in large parts by a little girl – a victim, we think – who only gradually realises she is the antagonist, this story becomes more haunting with every chapter, to the point where you can't actually put it down, and leaves you with a beautiful glimpse of a dystopian future where hope just might prevail over the monstrosity of human nature. Certainly more than a 'light' holiday read. This would have been a 4 out of 5, but loses some points for relying too much on off-the-shelf zombie story templates for plot and characters.
Pens: 3 out of 5
And Then There Were None by Agatha Christie
I picked this up because a random Kindle recommendation reminded me that Agatha Christie was among the first authors I read in English while learning the language (in easy language editions, of course). And I do love a good, old-fashioned murder mystery. This ten little indians-inspired tale is such a classic that I won't bother with the details; let me just say I found it quite a bit darker than I expected. Somehow I always think of good, old-fashioned murder stories as not quite as gruesome as the ones we get today, but I was reminded that Christie was certainly among the good, old-fashioned authors who taught us all about horrible murder and the darkest depth of the human mind. Reading this book is like the proverbial car crash – you know exactly what's coming, and yet you can't look away for one second.
Pens: 4 out of 5
Rivers of London (Peter Grant #1) by Ben Aaronovitch
Goodreads recommended this because of the Harry Dresden on my read shelf. Most reviews were along the lines of, "omg this is the new Harry Dresden", which very nearly put me off as I never quite made friends with the Chicago-based wizard PI. But I do love a bit of wizardry and especially books based in my chosen home city, so I packed it as a light read for my beach holiday to Spain. Meet Peter Grant, junior copper in the Met police, who just happens to see a ghost one night. Before he knows it he is recruited into the Met's super-secret supernatural squad, led by (or rather, consisting of) senior wizard and detective chief inspector Thomas Nightingale. As well as having to put up with Latin lessons and learning how to make fireballs, Peter soon finds himself knee-deep in a malevolent ghost's gory plot to act out the Punch & Judy story in gruesome detail on the residents of London… The first volume is probably the weakest and while I did love the detailed and authentic London scenery, it took me a while to warm to the cast. But I ran out of book before I ran out of holiday and with nothing better to read I grabbed volume two on the Kindle. Which might have just been the best reading decision I made this year…
Pens: 3 out of 5
Moon Over Soho (Peter Grant #2) by Ben Aaronovitch
…because the second book kicks off strong, deepening our relationship with the established cast and introducing a powerful new villain who you just know (or at the very least sincerely hope) is here to stay. Strange creatures are afoot in London's fashionable Soho neighbourhood – jazz vampires who seem to suck the mojo out of musicians, a mysterious lady with a very toothy vagina and a rogue wizard engineering an army of human-animal cross breeds. Junior wizard Peter Grant and his supernatural copper colleagues have their hands full – and that's even before Peter's jazz legend father decides to make a comeback. This book really cements the series' position in the genre and shines with a convincing, multi-dimensional cast, a London scenery as alive as the real thing (take it from this Londoner) and good dose of horror and humour.
Pens: 4 out of 5
Whispers Underground (Peter Grant #3) by Ben Aaronovitch
Of course no supernatural series set in London would be complete without going underground into the city's endless network of public transport tunnels. And they certainly offer a lot of potential for mysterious things happening. Abandoned tunnels, disused stations – for all we know, there could be a whole secret city buried in these forgotten spaces under our city. Well, maybe I like to be on the fantastic-romantic side of imagination, but you know what I mean. And that's basically the angle Aaronovitch explores here, sending Team Folly into the Tube tunnels and sewers to investigate a murder tied to an elusive civilisation of people (or are they?) who have made their homes down there. There's also an FBI agent who is remarkably like Dana Scully (except she dyes her red hair over in order to be totally not Dana Scully. I love BA almost as much for his regular X-Files references as I love him for giving us these books.)
Pens: 4 out of 5
Broken Homes (Peter Grant #4) by Ben Aaronovitch
One thing that comes through in this serious again and again is Ben Aaronovitch's obvious love for architecture. But while in previous volumes this was limited to occasional factoids and comments about the history and heritage of London's buildings, architecture really takes centre stage here in the form of a fictional south London residential estate where magical things are happening. Essentially the theme here is: what if a powerful wizard a long time ago had built a tower to harness magical energy from its unsuspecting residents? Well, we're about to find out. Meanwhile, the Folly makes progress in its battle against the faceless rogue wizard who first appeared in Moon Over Soho and continues to build his dark army. In that regard, the book also ends on one hell of a plot twist which really knocked my socks off and has me biting my nails in anticipation of the next volume coming out this November.
Pens: 4 out of 5
The Outsorcerer's Apprentice by Tom Holt
This one I picked up purely based on the title. I mean, come on – that's a stroke of genius right there. So, imagine your standard, average fairyland – you know, wolves, knights, dragons and damsels in distress, that kind of stuff. Imagine further that a ruthless businessman has found a way to multiverse-hop in there and apply a corporate business model for his own financial gain. Of course, the residents of fairyland are blissfully unaware of what's afoot. They do wonder, however, why the wolf never quite gets to eat the girl, why there is always – very conveniently – a dragon to be slayed just when you need one and what happens with all that wood the woodcutters have been cutting for decades. And the new prince, mind, also doesn't seem to be from around these parts. So what's up with all that, and who is the mysterious wizard running the show, and just how soon will the universe actually fall apart? This weird and wonderful book turns the fairytale on its head, laughs in the face of corporate bullshit and takes you on a hilarious joyride through the multiverse. Just make sure you don't lose your donut… I so want to give five pens to this book, but because Terry Pratchett has ruined me for all other men fantasy authors I just couldn't help thinking, throughout, that while it is awesome, it could have been brilliant in his hands.
Pens: 4 out of 5