Telling the story of the Butterfly Girl in a new tattoo
After getting my first ink in the form of my little musical wrist tattoos last year, I couldn't wait to go a bit bigger, but couldn't quite decide what would be next. Cherry blossoms up my leg? A tribute to my late grandpa?
One thing I'd been wanting for a while was a lace tattoo, ever since I'd come across Dom Holmes' stunning lace and pattern work. After turning "something lace" over and over in my mind, walking home from work one day I looked over my shoulder, and it just kind of appeared in front of my eyes: A lace butterfly. And, as if that wasn't enough of a sign, the fabulous Dom managed to fit me for with an appointment within two months.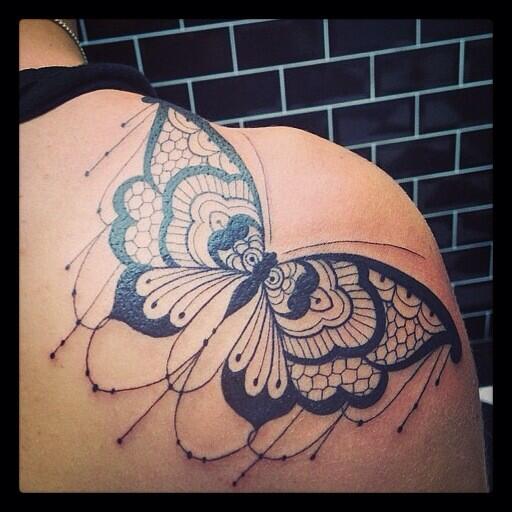 Freshly inked on slightly angry skin. Shiny photos to follow once it's healed.
The butterfly means a lot to me, even though I wasn't aware of it for the longest time. Quite a few years ago, my amazing, talented musician friend, the Wood Fairy, wrote a song of the love between two friends, a fairy and a butterfly girl. The song moved me to tears even before I found out that I'm her butterfly girl. For for some reason I had never realised that I tended to surround myself with butterflies – in the form of hair clips, jewellery, prints on t-shirts… But the Fairy spotted it, and so the Butterfly Girl was born.
And if you know me you'll also know that I'd rather clothe myself in lace than any other fabric, so the combination of the butterfly and the lace was really a bit of a no-brainer – even though it took me more than five years to figure that out.
My butterfly isn't healed yet, but I can't help plotting an extension of this tattoo down my back already. It'll probably feature more lace, and probably apple blossoms as a memorial to grandpa.
And maybe, one day, the butterfly will even get a fairy companion on my back.