re:View – The 2013 Bookshelf IV
I'm finally making progress on last year's bookshelf! Although, considering that I can hardly remember what I ate for dinner yesterday, we'll see how well I do attempting to review books I read almost a year ago…
This episode of Bookshelf contains some mind-blowing reads, some disappointment and at least a couple of books that deserve a special spot on my favourite books of all time shelf.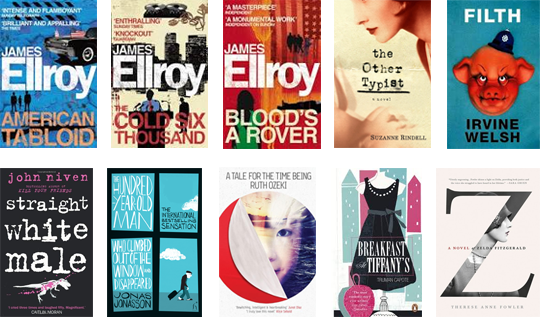 American Tabloid by James Ellroy
Ellroy's take on the Kennedy assassination conspiracy is one epic, disturbing journey into the American underworld. From DC to Hollywood, from New York to Cuba, this complex and painfully violent story chronicles the years leading up to JFK's death. Ellroy has drawn up a stunning version of the events, involving everyone from J. Edgar Hoover to Hollywood magnate Howard Huges, the Mob, the CIA and pretty much every political and criminal organisation of the time. Again, as with the LA Quartet, I'm loving Ellroy's technique of merging history with fiction in such a skilful way that you end up desperately wanting his version to be the truth – just because it's so outrageously huge and exciting. I don't really want to give away more because you have to read this stuff, without spoilers. And please read it before the movie comes out and ruins it all. Because no adaptation could possibly do this book justice.
Pens: 5 out of 5
The Cold Six Thousand by James Ellroy
Part two of the Underworld USA trilogy picks up right after the Kennedy assassination, seamlessly moving the narrative from the first volume on into the early days of the Vietnam war. The conspiracy takes on international proportions as the (by now familiar) stakeholders pursue their various goals: The Mob and the old CIA still want Cuba, the new CAI is pushing drugs from Vietnam, Robert F Kennedy goes after the Mob, J. Edgar Hoover wants RFK and Martin Luther King dead. Out of this multidimensional power struggle a new, powerful force forms underground, preparing to eliminate Kennedy and King and put a new president into place who can be moulded into a puppet for the Mob. It's been a good few years since I studied American history so I found the political and historical scope of this book a bit mind-blowing – but it's so worth getting stuck in.
Pens: 5 out of 5
Blood's a Rover by James Ellroy
After finishing The Cold Six Thousand it took me almost a year to pick up part three of Ellroy's Underworld USA trilogy – I simply needed a break from the epicness and violence of the first two books. But when I finally took the plunge into the last 700 pages, Blood's a Rover delivered the classic Ellroy enjoyment – a mix of terror, intrigue and pleasure that comes along when a really good book plucks you from your sofa and dumps you right in the middle of its world. The last epic volume spans the late 60s and early 70s, tracing Nixon's rise to power, the Mob pushing its casino business into the Dominican Republic, and J. Edgar Hoover's crusade against the Black Power movement. What I loved most about this series is how Ellroy manages to tell a gigantic, international political saga that spans a decade and a half, all through the very detailed and personal experiences of a handful of narrators playing the game at the heart of this enormous conspiracy. The whole trilogy is an absolute must read…but I'll confess I'm glad it's over now.
Pens: 5 out of 5
The Other Typist by Suzanne Rindell
What an utterly boring, pointless waste of pages. This 'tale of obsession and seduction' could have been intriguing, and I really wanted it to be. But it completely fails to engage due to uninspired (or should I say plain lazy) writing, one-dimensional characters and a hundred cliched and unnecessary details that are probably aimed at creating atmosphere but succeed only in making each chapter drag on forever. You have to drag yourself all the way to the last 40 pages before something finally happens, only to find that the part of the story that has all the intrigue and action is rushed by you almost as a postscript, leaving you feeling cheated out of a potentially good read. I think this is a case of an author indulging for so long in building up the story that she never gets round to telling the actual story. And even the build-up is so clumsy, obvious and predictable that you might as well not bother with the end. What baffled me most about this book was how it ever get past an editor.
Pens: 0 out of 5
Filth by Irvine Welsh
So the movie came out and everybody was a-hypin', so I thought I better read Filth pronto. Well, meh. I'll admit it had some outrageously funny bits, and some rather clever bits, and I almost became soulmates with the tapeworm. But I quickly got bored of the constant grossness and perversion, especially with the narrative going downhill towards the end. And I'm not sure what the whole point was, overall. Essentially, if you want to read in great graphic detail about a very despicable man doing lots of morally and sexually questionable or repulsive things, go ahead. Don't eat before you read. Don't read before you eat. I think I might skip the movie.
Pens: 2 out of 5
Straight White Male by John Niven
John Niven gave us Kill Your Friends and The Second Coming, both absolute knock-you-out, book-of-the-year kind of favourites about which I continue to preach on street corners. So I declared John Niven my new favourite author. Then I found The Amateurs less than lukewarm, so I didn't exactly get my hopes up when his latest book came out. Straight White Male didn't disappoint, but it also didn't knock me off my feet. It's a quick read about a screenwriter who's essentially a total arsehole until a mid-life crisis propels him into some serious trouble and teaches him to embrace life. It has some very funny moments and some very touching moments and certainly a lot to say about the battle between the muse and the business of writing. To be honest, it's a perfectly well written and entertaining book. It just didn't blow my mind.
Pens: 3 out of 5
The Hundred-Year-Old Man Who Climbed Out of the Window and Disappeared by Jonas Jonasson
By the time I became aware of this book it was already an international bestseller and all my German friends were raving about it. The hype put me off a bit at first and the writing style took some time to get into. But once I accepted the premise of this book – a beautifully exaggerated, Forrest Gump style tall tale that places our hero smack in the middle of key historical events of the 20th century – and just went with it, the story became somehow magical. And by the time I reached the end I just really, absolutely didn't want to part ways with Allan Karlsson and the charming crew of underdogs and misfits he picks up along the way of his quirky Scandinavian road trip.
Pens: 5 out of 5
A Tale for the Time Being by Ruth Ozeki
My God, what a book! Part coming-of-age tale, part Japanese ghost story with a touch of WW1 history, Ruth Ozeki's Man Booker nominated masterpiece tells the story of suicidal Japanese teenager Nao. Her cry for help comes as an echo from the past on the pages of her diary, carried across the ocean on the waves of a tsunami and turning around the life of writer Ruth who plucks it out of the flotsam on the Canadian shore. The structure of this book unfolds like a little miracle, a chorus of voices from diaries, letters and dreams floating back and forth between centuries and cultures from the writers to the readers, waving into each other to create a timeless and incredibly touching argument for being alive. The characters are beautifully – and often painfully – crafted: I want to tell you every little detail about them, but the pleasure of this book lies in gradually uncovering their secrets. This is a wonderful read: wise and thoughtful and heartbreaking. It's one of those books I want to preach about on the street corner until every single person I know has read it. Please, please read it.
Pens: 11 out of 5. Seriously!
Breakfast at Tiffany's (and other stories) by Truman Capote
What a shame that Breakfast at Tiffany's is so short. Such a charming story full of intriguing characters, and by the time you get into it, it's already over. But maybe that's what makes it so appealing – the entire book, much like its main character Holly – just breezes through your evening like a fashionable whirlwind, leaving you a little bewildered and feeling left behind. As if to make up for the briefness of the encounter, the edition I bought comes with a number of Capote's other stories in the back – and they are equally brilliant. I love Capote's choice of situations and characters: each story presents an incredibly detailed snippet of a very specific situation in life, yet they all convey some essential truth or other about how it feels to be human. What a pleasure to read.
Pens: 5 out of 5
Z: A Novel of Zelda Fitzgerald by Therese Anne Fowler
This fictionalisation of Zelda Fitzgerald's life is a delightful read, although at times infuriating. Having known next to nothing about F Scott Fitzgerald or Zelda's lives before I opened this book, I found it drew a rather damning picture of the celebrated author. I guess the trouble with fictionalisation, as opposed to biography, is that it tells an edited, interpreted version of the truth and in this case, that really left me pining for some accurate biographical information – in short, 'the truth'. Regardless, it is certainly an enjoyable portrait of an intriguing era and a great account of the power struggle between a woman and her man. And it serves as a good reminder of why we are feminists.
Pens: 4 out of 5