re:View – The 2012 Bookshelf VI:
More favourites
It's almost March and I still haven't reviewed all of last year's reads. But here, finally, is the last batch.
I'll have to come up with something a bit shorter for this year's bookshelf to resolve the constant compromise of whether to spend my lunchtimes reading or writing…
Some more books by some of my favourite authors

Dodger by Terry Pratchett
A Dickens-era young adult book from Pratchett, about a tosher from the poorest part of London who uses his brains and bravery to prove that you can rise above yourself, can only mean one thing really: A delightful, heart-warming and funny story with just the right balance of history lesson and breathtaking adventure, with a lovely, mischievous but good-natured protagonist who you can certainly identify with at any age. Ooh, it is lovely.
Pens: 5 out of 5
A Blink of the Screen: Collected Short Fiction by Terry Pratchett
Well, this book is just a complete treat, a gem that will always sit in a very special place on my bookshelf. Going back to the 1970s, this collection of short stories, very short stories, poems and nonsense offers some stunning insights into the development of Terry Prachett as an author – from a story he wrote at 13 as a homework assignment, to unpublished Discworld goodies from recent years. Ever story comes with a comment from the author himself – and this being Pratchett, the comments are just as delightful as the writing. In between the stories, another extra-special treat awaits the fans: Original Josh Kirby artwork created for and around the Discworld books, featuring all of our favourite characters. It's one of these books you just must have.
Pens: 5 out of 5. And a gold star for the artwork.
Three and a Half Deaths by Emma Donoghue
Emma Donoghue is one of my favourite authors and one of the few writers who can make me read – and enjoy – short stories. And now she is also the first author to make me buy and read an ebook, as this small volume of stories that didn't fit into Astray (below) was only published digitally. Looking at some of the many forms of death – accident, suicide, negligence and near-death experience – these stories explore what it's like to be left behind, what it's like to be guilty, and what it might be like facing the end – all done in Donoghue's brilliant fact-meets-fiction style, that little piece of history at the centre making each story so very intriguing.
Pens: 4 out of 5 (One point deducted because I had to read it on the screen and can't put it onto my bookshelf to keep forever.)
Astray by Emma Donoghue
This collection of short fiction inspired by facts is centred around travelling to and within North America. From emigrants to fortune-seekers and runaways, fourteen fates that were made somewhere in the process of leaving, transition and arriving are told in a multitude of voices. The styles vary hugely – which is one thing that always makes a new short story book by Donoghue such an exciting thing to dive into – and every single character moves you, whether to sympathy or disgust. There's one story that I found especially captivating: 'The Hunt', which was shortlisted for the 2012 Sunday Times EFG Private Bank Short Story Prize and read by actor Jamie Blackley at a reading in the run-up to the prize. It's a haunting memoir of a teenage soldier forced to participate in a campaign of systematic rape of local women during the American War of Independence. Seriously heavy stuff to read, it had infinitely more impact read out by this young actor in a painful and yet very innocent kind of way. Definitely one of those literary experiences I will never forget.
Pens: 5 out of 5
The Joyous Season by Patrick Dennis
The genius who gave us Auntie Mame presents his take on family life and family gatherings, and the result is about as hilarious and genuinely mental as family gets. Part family drama, part social satire of the metropolitan elite of the 1960s, this story told by a ten-year-old narrator follows the scandalous divorce of a New York socialite couple. Its cast of in-laws, suitors, fake friends and other social menaces are shaped in Dennis' famous, warm-hearted caricature style, giving them all the maddening and loveable qualities we know too well from our own relatives. A charming and timeless little treasure of a book.
Pens: 5 out of 5
Solar by Ian McEwan
I had a bad reading experience with Atonement (first year at university, literature professor with an aversion to freshers, inhumane exams…) which put me off reading McEwan for years. But a friend and fellow bookworm (who, as my English teacher in school, had encouraged and nourished my love for books more than anyone) kept recommending Solar again and again – so after years I eventually went and read it. And what a good idea that was. It's one of these rare books that you love and hate. Michael Beard is a character so despicable in his mind and his actions that you dread to turn the page, and yet you find yourself drawn deeper into his story and more captivated with every turn it takes for the worse. (Kind of like soap operas really, now that I think of it.) And, amazingly and despite yourself, you still find yourself feeling sorry for him in the end. This book is genius; painfully awkward and painfully funny – I literally cringed while I laughed. 
Pens:  5 out of 5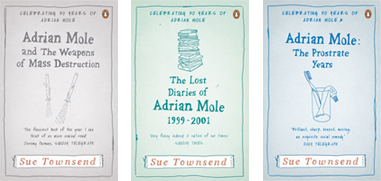 Adrian Mole: The Weapons of Mass Destruction, The Lost Diaries, The Prostrate Years, all by Sue Townsend
After reading the earlier Moles in a batch, I finished off the series with the last three books just after Christmas. While young Adrian Mole was impossible and hilarious, middle aged Mole can be a bit of a downer, which ruins all the fun. Luckily, after a annoyingly negative Weapons of Mass Destruction and a somewhat half-arsed and sketchy Lost Diaries, Townsend brings the series to a closure with the very funny, moving and uplifting Prostrate Years. Overall, as I've probably said before, Adrian Mole is certainly a character who should cross every reader's path.
Pens: 3 out of 5 for Weapons of Mass Destruction, 2 out of 5 for The Lost Diaries, 5 out of 5 for The Prostrate Years