Meet the Wardrobe Monster
Let's add a bit of cat to the internet. (Because, clearly, there aren't enough cats on the internet these days.)
Two weeks ago we adopted a cat from Cats Protection North London*.
We named him Steadman (because The Boyfriend is a bit of a fan and spotted a certain similarity to Steadman's cats), but mostly he gets called Fluffninja or Wardrobe Monster. Because, being the terrified little stray cat he has been for most of his life, he moved directly into the most hidden space in our wardrobe and hasn't really come out much since. Except to eat some chicken.
He's making slow but steady progress, though, so there's hope that he will settle in soon.
And here he is, our little Fluff: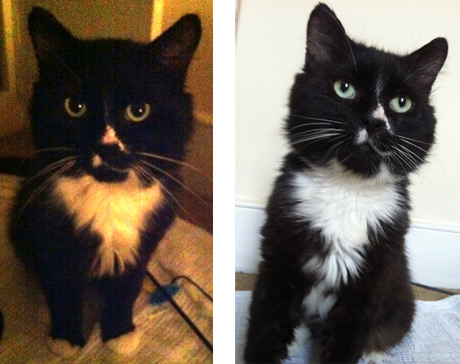 *Awesome place, by the way. The lovely people at the adoption centre are doing a fantastic job caring for all those poor kitties, and were incredibly quick and helpful in sorting out the adoption.