re:View – The 2012 bookshelf I
Er, yikes. It's July and I still haven't done a bookshelf for this year. We'd better get going. There are 33 on the read-list so far, so I'll split them up into a few posts to protect you from complete book overload.
Comes with the usual health-and-safety warning: Spoilers.
Schweinskopf al Dente
by Rita Falk | Amazon (DE)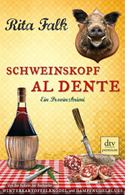 Another German provincial murder mystery, part three of Rita Falk's bestselling Franz Eberhofer series is mostly more of the same, which in this case means more hilariously entertaining micro-cultural comedy with a bit of a crime story in the background. To be fair, I probably only love these books so much because they are set around my home town and feature a whole range of characters and customs that could have been plucked straight off our road in the village. Most of the fun in this series is based on regional culture and dialect, so this one's probably best enjoyed by German natives / native speakers, which means we can move right on to the next book.
Pens: 3 out of 5
Island of the Sequined Love Nun
by Christopher Moore | Amazon (UK)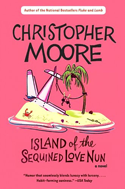 I had almost given up on Christopher Moore in the light of the recent, largely disappointing additions to my bookshelf. But then, just in time, along came Love Nun to sway my opinion of his writing back into more favourable regions. This is a great adventure, with a good story that's nutcase enough to have you laughing out loud but doesn't go completely off the rails in terms of the plot. A washed-out pilot stumbles onto a remote island, where a vaguely mental doctor and his evil wife are doing some not exactly ethical stuff with the cannibalistic natives under the guise of an old cargo cult. Much madness ensues. This could also make a fantastic movie, by the way.
Pens: 4 out of 5
Böser Mann
by Franz Xaver Roth | Amazon (DE)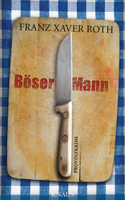 Another Bavarian murder mystery, this time of the more boring kind. It draws on the usual components – rural setting, endearingly "special" natives, corpses start piling up – but doesn't get anywhere near a good level of suspense. Or even entertainment, for that matter. The setting lacks atmosphere, the characters lack, well, character, and the story, despite containing a good deal of scandalous developments, fails to scandalise or even engage the reader in the slightest. Bad case of jumping-the-bandwagon of a popular genre.
Pens: 1 out of 5
Föhnlage
by Jörg Maurer | Amazon (DE)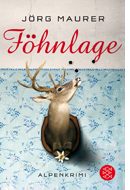 Staying in the genre, here's another good example. This one follows a team of police investigators into the deep Bavarian province, where a series of spectacular deaths is threatening the tourist business in a famous ski and spa resort. The appeal of this book, besides the usual regional culture-based humour, is that it actually has a good crime story at the core, with the inspector's case soon expanding across the Alps and all the way into Italian mob territory. And, in contrast to the often rather fluffy nature of the murder mystery which is typical of the genre, this one comes along rather mean and with plenty of suspense.
Pens: 3 out of 5
Nanny Ogg's Cookbook: A Useful and Improving Almanack of Information including Astonishing Recipes from Terry Pratchett's Discworld
by Terry Pratchett and Stephen Briggs | Amazon (UK)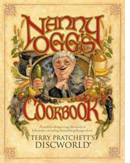 It's the best of Discworld food and eating culture, and as such an absolute must for every fan and collector of the series. Parts of it feel a bit seen-it-all-before if you've read the novels because, naturally, it picks up all food and eating related bits and pieces from the various stories. But overall this is a very entertaining and – courtesy of Paul Kidby – beautifully illustrated cooking encyclopaedia of the slightly different sort. Some of the recipes are actually edible, some are more on the unusual side, and some are pure comic cold. The cookbook also comes with a complete guide to eating and etiquette in the various cultural circles of the Disc, including my favourite section on how to serve Granny Weatherwax her tea and scones.
Pens: 3 out of 5 (only because it is largely recycled material)
Snuff
by Terry Pratchett | Amazon (UK)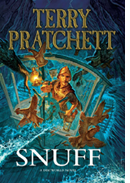 Pratchett's latest Discworld novel picks up the storyline of Commander Sam Vimes from the City Watch. It's a fantastic book, part murder mystery of the detective-goes-on-a-holiday kind, part comment on racial tensions and the acceptance of people and customs unfamiliar to our little, safe world. While still quite funny, it also seems a lot darker and more serious than the early Discworld stuff, which was definitely a new side of Pratchett to me. I wasn't too bothered about reading the City Watch storyline, but the character of Sam Vimes, who comes out really strongly in this book, has changed my mind and made me add yet another bunch of Discworld books to my rapidly growing wish list.
Pens: 4 out of 5
Reaper Man
by Terry Pratchett | Amazon (UK)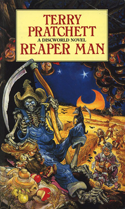 Death is back. Well, in fact, he's missing. Presumed, well, gone… When the mysterious auditors of Discworld decide that Death should be done away with, the balance of life and death is thoroughly shaken up and soon the wizards discover that the city is being invaded by parasitic life forms that evolve into…something spectacularly funny. I can't possibly give away the plot on this one because figuring it out as you go along is just too much fun. Meanwhile, Death explores the life of an underdog and learns a whole lot about humans. This is without a doubt one of the best, deepest and funniest Discworld novels – an instant favourite.
Pens: 5 out of 5
Red as Blood, or Tales from the Sisters Grimmer
by Tanith Lee
What a load of *bleep*. This book was so bad that I actually felt offended. And endlessly disappointed that what promised to be just my kind of fairy tale book – a feminist turn on Grimm & co a la "What if the pincess was the baddie" – turned out to be an utterly pointless collection of badly written stories featuring female characters who are mean just for the sake of it. Most stories left me completely unmoved, merely wondering WTF just happened, and what the purpose of it was in the first place. It's certainly not feminist. No badass princesses and ambiguous witches here, not even a halfway decent strong female character in sight. Instead, all you get is a very disturbing villainisation of the female, from the arrogant princess to the satanic stepmother. Not exactly a twist on the traditional fairy tale. Just an added layer of female stupidity, vanity, and meanness. Seriously, WTF?
Pens: 1 out of 5
Otis Lee Crenshaw: I Blame Society
by Rich Hall | Amazon (UK)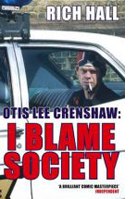 I thought I'd try some Rich Hall as I find him hysterically funny as a comedian. And surprised I was. His mock-autobiography of his stage alter ego, white-trash country singer Otis Lee, is funny, all right, but it is also surprisingly moving. Because behind the tall-tale story and the sarcasm, there is someone who understands his subject. It is clear that Rich Hall has a very good idea of the people and life situations he's joking about, and he does so in a warm-hearted, almost caring kind of way. It's a cultural comment written in laughs, and a thoroughly entertaining book.
Pens: 4 out of 5
Little Me: The Intimate Memoirs of that Great Star of Stage, Screen and Television/Belle Poitrine/as told to Patrick Dennis
by Patrick Dennis | Amazon (UK)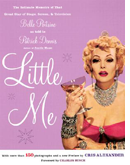 Belle who, you ask? Worry not about being completely un-clued-up on one of the most important starts of our time. Little Me, Patrick Dennis' scream-out-loud funny mock-memoir of the Hollywood starlet who thought herself a little bigger than she was, is not based on anyone real – but you do get the feeling that it's based on a whole cast of real people indeed. Belle rises from provincial nobody to B-list tabloid queen along the usual route – sex, lies and, er, murder – and every chapter in her life is a little more scandalous than the last. My only issue with this book was that the satire is, in places, too perfect and too polished and almost tips the whole thing over the edge into the ridiculous. But Dennis narrowly holds it on the ledge, keeping the reader in breathless anticipation of what outrageous adventure the next chapter will bring. As I'd already guessed from the Auntie Mame books (reviewed here), Patrick Dennis is a genius of satire, and a master in creating immortal, larger-than-life female characters you just have to fall in love with.
Pens: 5 out of 5