So, I mainly watched this one because it's got Gillian Anderson and she gets to be a gorgeous, glamorous, total bitch. But by the time her character popped up on screen, I was already so thoroughly entertained by the UK's answer to The Devil Wears Prada that I had nearly forgotten I was waiting for her appearance.
The story is, uhm, let's say, charmingly predictable. Sidney, a young, talented British journo with a whole bunch of ideals and an even bigger ego, who specialises in pissing everybody off (hence the title), somehow gets himself hired by American's most famous celebrity magazine. Roll on the cheesy, painfully over-used establishing shots of N-Y-C. The glitzy world of celebrity journalism, of course, isn't at all what Sidney expected and he duly falls flat on his face. Multiply. His collection of Shoulda Known Betta experiences include pissing off all his superiors, pissing off his only well-meaning colleague (and true love-to-be), pissing off the city's most powerful publicist, and pissing off all the celebrities. Oh, and making a complete fool of himself believing Megan Fox would actually let him get anywhere near her pants. However, in due course, he sells his soul for a trip all the way to the top (and a little closer to Ms Fox's pants.) But just as he's about to have it all, of course, he becomes disgusted with himself and turns his back on the corrupt world of glamour magazines in favour of his great ideals and (yawn!) true love.
So, the story certainly doesn't win a prize (at least I hope it didn't, or I'm gonna look really dumb), and you totally keep waiting for Miranda Priestly to come marching into the office and start ripping up throats any second. Sidney is pretty much a male version of The Devil Wears Prada's wide-eyed Andy, but while Anne Hathaway's Nice Journalist Girl faded a little next to Meryl Streep's all-eclipsing evilness, Simon Pegg's underdog charm and hilarious comic timing allow his character to take absolute command of the the somewhat lame plot.
From the remaining repertoire of adorably stereotypical characters, Megan Fox stands out with an altogether fabulous parody of herself, and Gillian Anderson almost fills Meryl Streep's Prada heels as the 'Queen of New York' – the über-dominating publicist who decides which of her clients the magazines will 'want' to put on their next cover.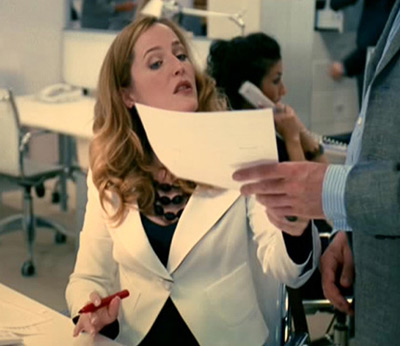 BTW: Gillian Anderson with a red pen, editing copy. Cue major obsession.
So, yeah, it's another of those Virtuous Journalist vs The Rotten Magazine Industry films, and it's another one based on a journalist's memoir (Toby Young's, in this case). But this one's fun, fun, fun from the first minute until the credits roll, and it doesn't make you hate yourself for still wanting to be part of that infamous magazines world by the end of it.
Verdict: It's got all you need for 110 minutes of marvellous, lighthearted entertainment. And it's got Gillian Anderson. And she does the Scully Eyebrow™. What more could you want?
---
Totally Worthless Comment: If you google Scully Eyebrow, the image search turns up two pictures from my
The X Files: I Want to Believe re:View
. Win!