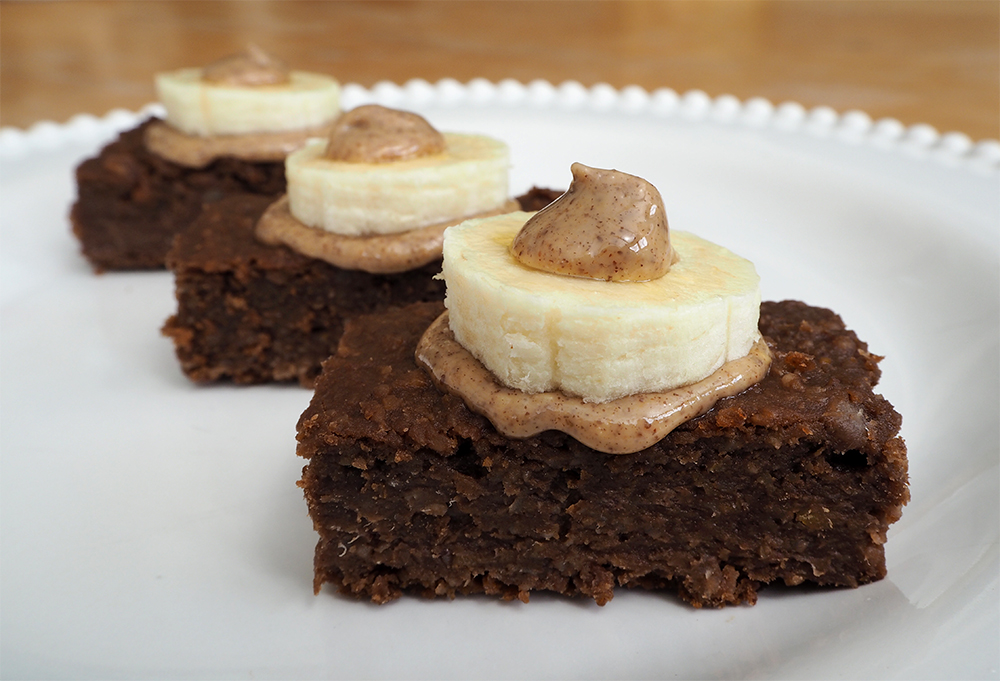 I'm not even kidding you – these are the best brownies ever. Gooey, chocolatey, banana-ey and gloriously guilt free, because they're packed full of nutritious ingredients, with no added sugar.
As most of my brownies, they're based on chickpeas, oats and dates. I don't follow a gluten-free diet, but I prefer using chickpeas because it means you don't need eggs and can still get a dose of protein. (I'm not vegan either, by the way, I just like to avoid dairy and eggs as much as I can.)
These can be whipped up in a food processor in five minutes and are a great way to use up very ripe bananas.
---
HEALTHY BANANA BROWNIES (VEGAN, GF)
Makes one 24cm square tin – ca 16 brownies
100g oats*
1 can (240g) chickpeas, rinsed and drained
150g dates
30g agave nectar
70g peanut butter (or other nut butter)
30g cocoa
1 tsp baking powder*
2 large ripe bananas (or three small ones)
250ml milk alternative (I use Oatly or Rice Dream, but nut milks work too
1 tsp coconut oil for the tin
Preheat the oven to 170°C. Brush a 24cm square (or equivalent size) brownie tin with coconut oil.
Put all the ingredients into a food processor and process everything into a smooth mixture.
Fill the mixture in to the brownie tin, spread evenly, and bake at 170°C for around 30 minutes, or until a toothpick stuck in the middle of the cake comes out clean. It's ok if you still get a slight wobble in the middle; that will ensure you get a brownie-like consistency.
Leave to cool in the tin, then cut into squares or slices.
---
Store in the fridge. They'll keep up to a week.
* To ensure the brownies are gluten-free us GF-certified oats and baking powder.