I'm on a mission to prove that healthy cake can be just as delicious as traditional cake, and this recipe definitely is a case in point.
Imagine all the goodness of sweet, moist apple cake with the warmth of cinnamon and a hint of chocolate, but without any butter, flour or refined sugar. This recipe uses chickpeas instead of flour, which makes it gluten-free and has the added benefit of swapping out some of the carbs for protein. You won't be able to taste the chickpeas, promise. As my friend said after she tried these, "I can't believe it's chickpeas!"
I rely on these cakes for my mid-morning snacks, for a light energy boost before workouts…and basically for all my cake needs.
The basic recipe also works in all sorts of other flavour combinations, and over the next few weeks I'll be posting a brownie version, a vanilla protein blondie version, and carrot cake variation on the apple recipe. So stay tuned for more gorgeous cake!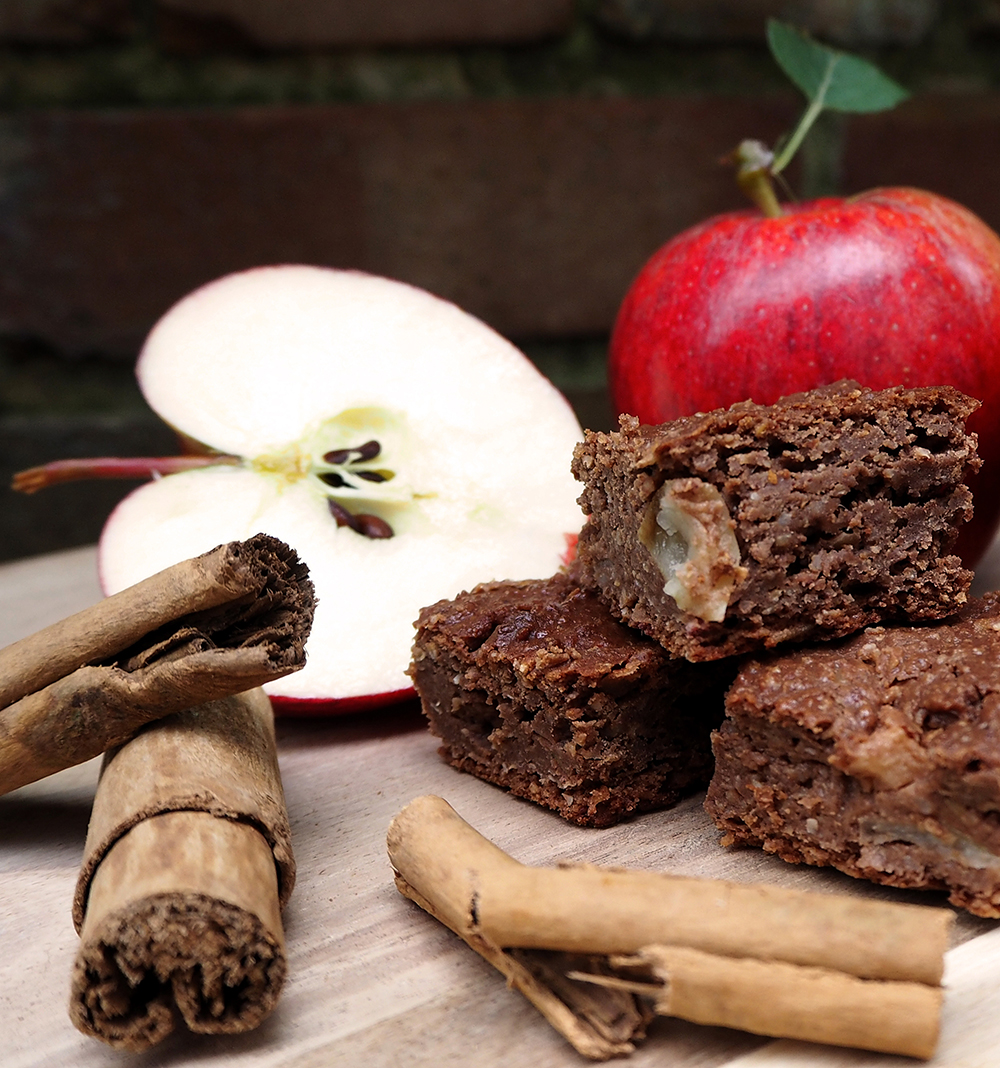 ---
VEGAN, GLUTEN-FREE APPLE AND CINNAMON CAKE
Makes one 24cm square tin
100g oats*
1 can (240g) chickpeas, rinsed and drained
100g dates
30g agave nectar
50g peanut butter
30g cocoa
2 tsp cinnamon
1 tsp baking powder*
250ml milk alternative (I use Oatly or Koko, but almond milk works too)
2 apples, chopped, half put aside
1 tsp coconut oil for the tin
Preheat the oven to 175°C. Brush a 24cm square (or equivalent size) brownie tin with coconut oil.
Put the oats in a food processor and blitz until they are finely ground.
Add all the other ingredients (reserving half of the chopped apples) and process everything into a smooth mixture. Stir in the remaining apples with a wooden spoon.
Fill the mixture in to the brownie tin, spread evenly, and bake at 175°C for 35-40 minutes, or until a toothpick stuck in the middle of the cake comes out clean. It's ok if you still get a slight wobble in the middle; that will give the cake a brownie-like consistency.
Leave to cool in the tin, then cut into squares or slices.
---
Keeps in the fridge up to one week. (They might keep longer but I haven't tested that as they never survive more than a week in my fridge!)
* To ensure the cake is gluten-free us GF-certified oats and baking powder.