Aaah autumn. The season of tea, soups and warming breakfast porridge. For tonight's Saturday dinner I made baked apple porridge (because why the hell not) and it's the ultimate winter warmer!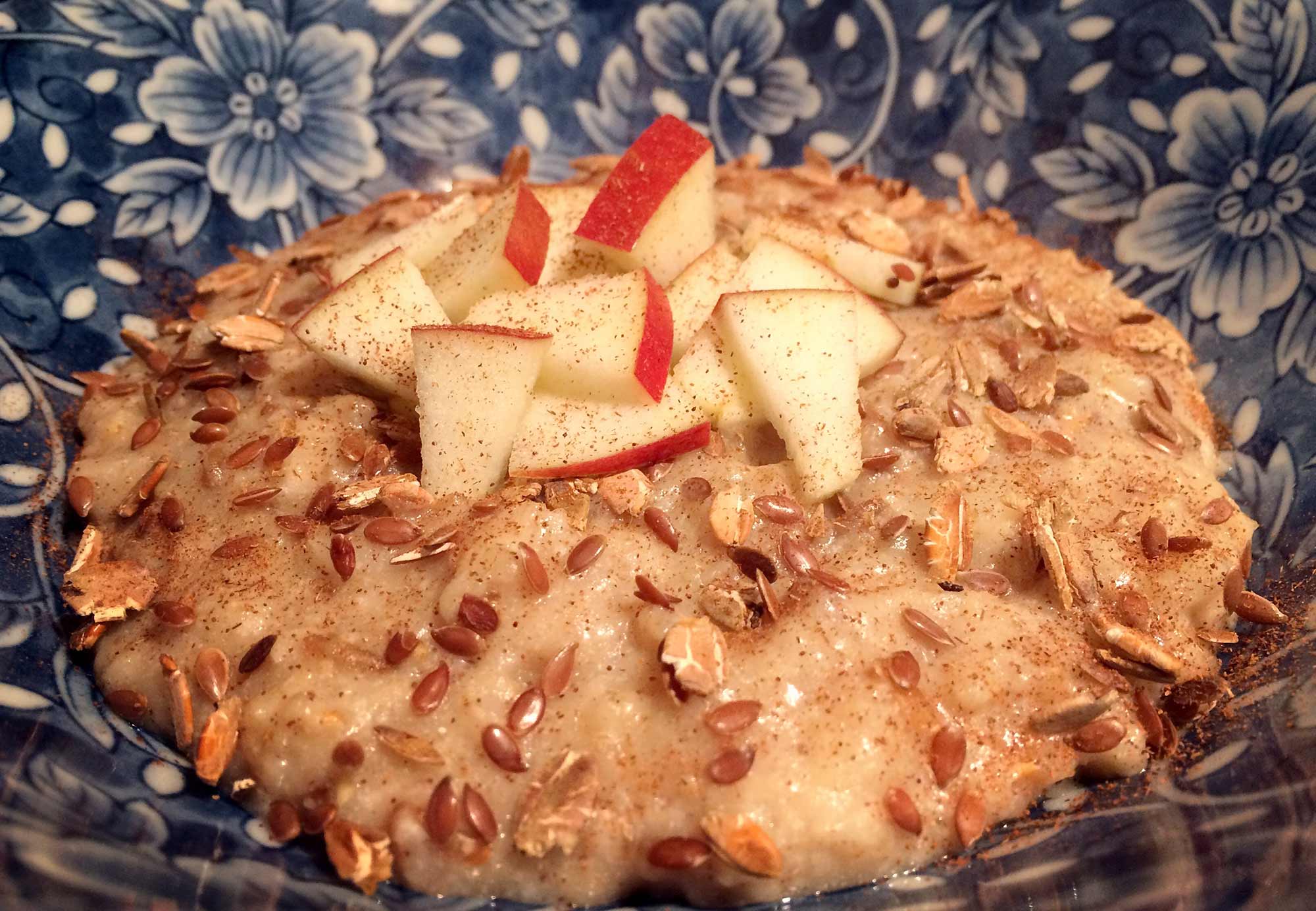 The combination of apple, cinnamon and a crunchy topping gives this porridge all the goodness of a baked apple dessert. And by cooking half the apple in the porridge until it breaks down and using the rest for the topping, and adding some roasted rye flakes and seeds as a topping, you get a wonderful mixture of textures. It's seriously so, so good. I could eat this for breakfast, lunch and dinner.
For this one make sure you use whole (chunky) porridge oats and not the fine ones, because the porridge needs to cook a bit longer for the apple to break down.
---
TWO GRAIN BAKED APPLE PORRIDGE WITH CINNAMON
Makes one portion
For the porridge:
3 tbsp whole (chunky) porridge oats
1 tbsp rye flakes (for example from Holland & Barrett)
1/2 apple, peeled and chopped finely
200ml oat milk
100ml water
1 tsp honey (or to taste)
1/2 tsp cinnamon
For the topping:
1 tbsp rye flakes
1 tsp brown linseed
1/2 apple, sliced
Put all the porridge ingredients in a small pan and cook until the apple chunks start to break down. If the consistency gets too thick just add a splash more hot water as you go along.
While the porridge is cooking, roast the remaining rye flakes in a pan until golden and crispy. (This only takes about half a minute once the pan is hot so keep an eye on them!)
To serve, put the porridge in a bowl, sprinkle the linseed and crispy rye flakes over it, top with the apple slices and give the whole thing a dusting of cinnamon.