I love tarka dal but if you're doing it properly it just takes forever to cook. I usually make a huge bowl when I'm cooking curry anyway and freeze it in small portions for an occasional treat. Here's a quick and tasty red lentil dip that reminds me of the flavours of a nice, comforting bowl of dal but is a lot quicker to make. It's also a bit lighter and tastes great with veggie sticks or spread on crunchy lettuce hearts. A perfect addition to the lunchbox!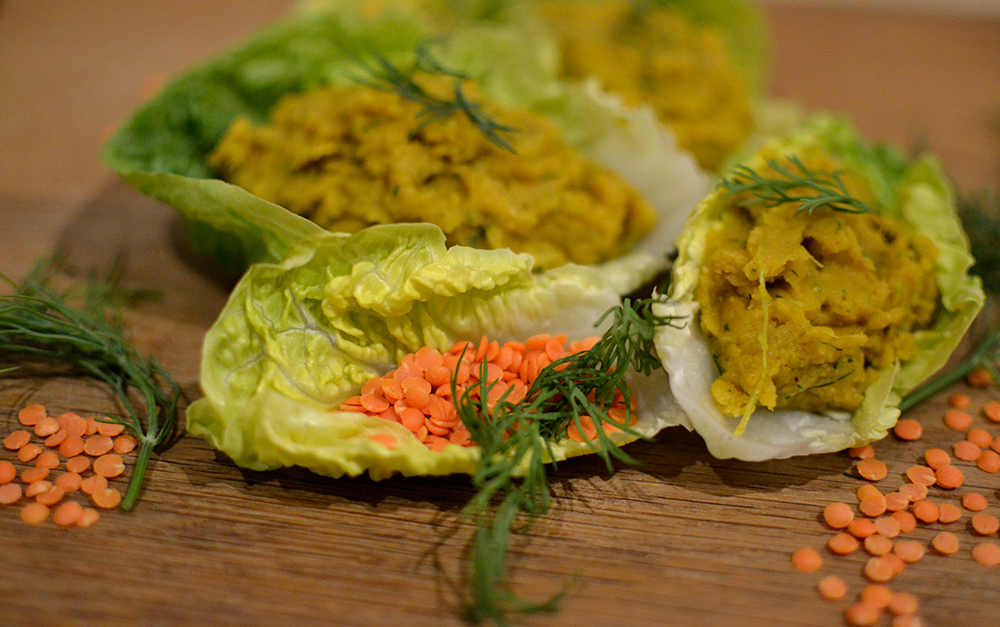 This is a recipe for Thermomix, but you could also make it with a blender or food processor – see alternative instructions below.
---
CURRIED RED LENTIL DIP WITH DILL
(Makes 3-4 portions – depending on how hungry you are!)
100g celery, in pieces
A small red chilly (fresh or dried)
125g split red lentils, rinsed and drained
300g water
2 tsp vegetable stock
½ tsp turmeric
1 tsp medium curry powder
freshly ground black pepper
5 spring onions, in chunks
a handful fresh dill, with stalks
Recipe for Thermomix:
Chop the celery and chili for 5 seconds / speed 5.
Add the lentils, water, stock and spices. Simmer for 25 minutes / 100&degC / speed 2 – keep an eye on it as the lentils can rise up a bit when the water starts boiling.
Add the spring onions and dill and puree gradually on 2-4-6-8 until you have a smooth paste.
Without a Thermomix:
Chop the celery roughly, chop the chili finely and fry both in a little olive oil until soft.
Add the lentils, water, stock and spices, bring to the boil and simmer for 25.
Put everything into a food processor, add the spring onions and dill and blitz until smooth.
---