As a frequent snacker I NEED cereal bars to get me through the day, but most of the bought ones are stuffed full of sugar and artificial flavourings and leave you hungry again after ten minutes.
Here's an alternative to all that: super easy, homemade cereal bars with all the goodness of nuts, fruits and natural sweeteners that actually fill you up and also satisfy all your cravings for sweetness and crunch. Totally clean and oh so good.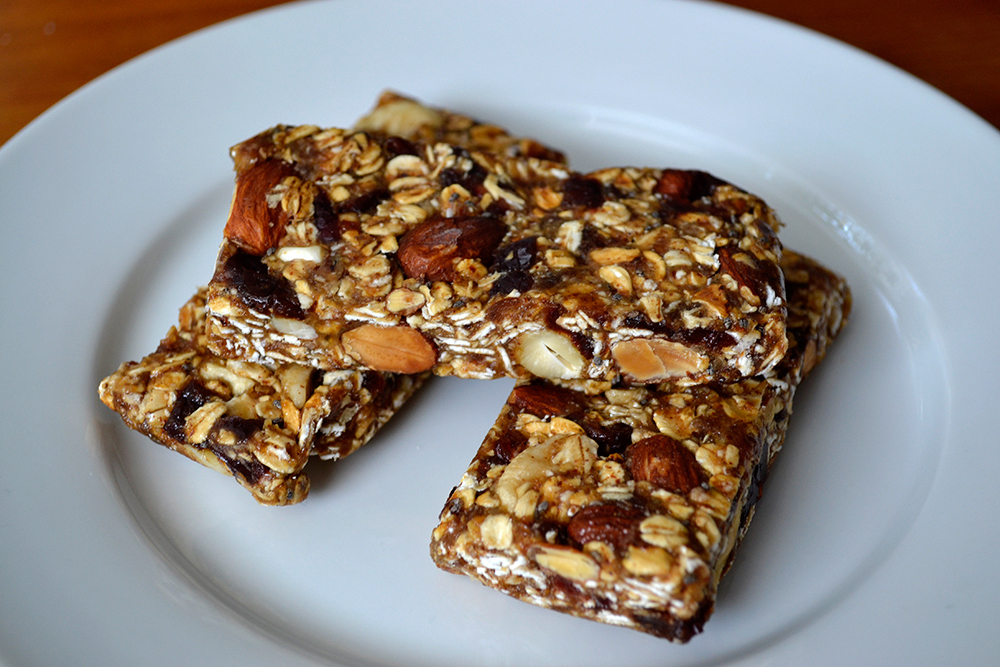 Be warned, though: These are very addictive and it's all too easy to munch your way through quite a lot in one go – but the ingredients pack a serious amount of energy.
---
ALMOND AND CHERRY CEREAL BARS
150g whole rolled oats
100g almonds
50g cashews
80g salted almond butter (or add a pinch of salt)
40g honey
100g dates
75g dried cherries
1/2 banana
Spread the oats and almonds thinly on a baking tray and toast at 180°C for about 10 minutes. Give them a shake halfway through so they don't burn on one side. Leave to cool.
Meanwhile blitz the dates and banana in a food processor. Stir in the honey and almond butter until you have a smooth and very sticky paste.
Chop the cherries and cashews roughly. Add to the toasted almonds and oats in a bowl, pour over the sweet paste and mix everything with a wooden spoon until evenly distributed.
Line a brownie tin with greaseproof paper; make sure paper covers the sides as well so you can lift it out easily later.
Pour the mixture into the tin and spread as evenly as you can with the wooden spoon, then press down with wet hands until the mixture is packed tightly. Leave to set in the freezer for about ten minutes.
Once the mixture has set, use a sharp knife to cut into bars, squares or bites – whichever size you like. Wrap each bar in greaseproof paper and store them in an airtight container in the freezer.
They keep for at least two weeks – beyond that I can't tell as a batch rarely lasts that long in my house…