Well, I'm not sure how skinny they actually are, but un-iced, these cupcakes contain no fats other than those that naturally occur in the other ingredients. So that makes them pretty skinny in my book. They're also largely courgette based so they must count as at least one of your five a day. See, they're practically healthy!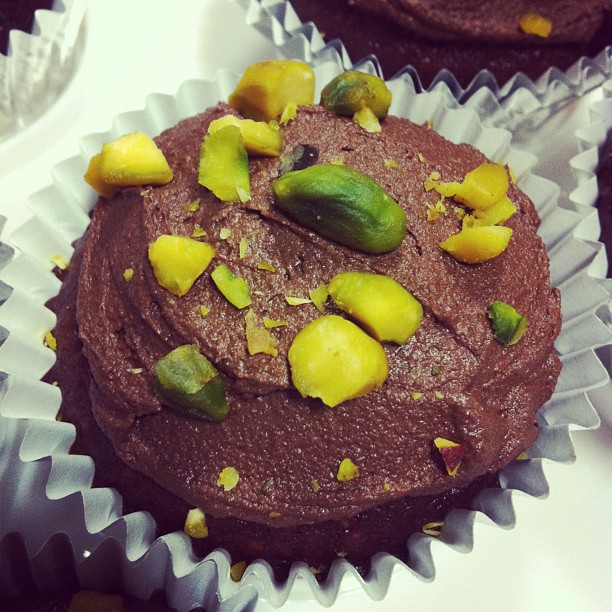 Light, chocolatey, delicious, and probably one of your five a day.
---
INGREDIENTS
Makes 15 cupcakes
100g shelled pistachios
3 eggs
180 light brown muscovado sugar
300g courgettes
120g self-raising flour
60g cocoa powder
½ tsp salt
For the icing
100g unsalted butter
100g icing sugar
50g cocoa powder
50g shelled pistachios
---
TO MAKE THE CUPCAKES
Preheat the oven to 170°C and line two muffin tins with 15 paper cases.
Peel the courgettes and grate them finely.
Grind the pistachios in a food processor or mill until they are are powdery. The finer they are ground, the better the cake.
Whisk the eggs and sugar until they are pale and fluffy. Beat in the courgettes and ground pistachios, then beat in the flour and salt until well combined. The mixture will be quite drippy.
Spoon the mixture into the cases, filling them no more than two thirds. Bake for 20 minutes, or until a toothpick inserted into the centre of a cupcake comes out clean. Leave to cool in the tins for a few minutes, then transfer to a wire rack to cool.
TO DECORATE
For the icing, beat the cubed butter until fluffy, then gradually beat in the icing sugar. Beat in the sifted cocoa and keep beating until everything is creamy and well combined. Spread the icing evenly on the cupcakes.
Crush half the pistachios and leave the other half whole. Sprinkle them over the cupcakes and leave to set for a bit.
This delicious recipe is adapted from Harry Eastwood's chocolate and courgette cake as published in Waitrose Kitchen.